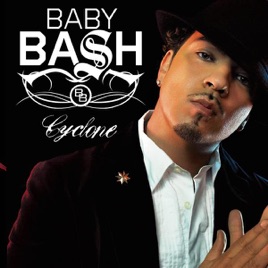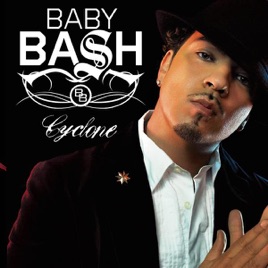 TITLE
TIME

What Is It (feat. Sean Kingston)

Mamacita (feat. Marcos Hernandez)

Baby Bash & Marcos Hernandez

Dip With You (feat. Aundrea Fimbres)

Spreewells Spinnin' (feat. C****o Bling, Lucky & Queenie)

As Days Go By (The Love Letter) [feat. Paula DeAnda]

Thrill Is Gone (feat. Ryan Tedder)

Don't Stop (feat. Keith Sweat)

Mean Mug (feat. Da Stooie Bros., Mistah F.A.B. & Pimp C)

Ronnie Rey All Day...Choppin' It Up (Interview)
14 Songs, 52 Minutes
Released:

Oct 30, 2007

℗ 2007 Arista Records LLC, a unit of SONY BMG MUSIC ENTERTAINMENT
Ratings and Reviews
Baby Bash - Cyclone (2007)
This is maybe his best album, and his music is still great. Baby Bash is one of the best R&B/Hiphop artists. There are many best songs in this album. Nice job!

RECOMMENDED SONGS:

1. Numero Uno - 5/5

2. Cyclone - 5/5

3. Just Like That - 5/5

4. What Is It - 5/5

5. Dip With You - 5/5

6. As Days Go By (The Love Letter) - 5/5

7. Thrill Is Gone - 5/5

8. Don't Stop - 5/5

9. Mean Mug - 5/5
Cyclone
I have been waiting so long for this album to come out. Also on the same day Britny Spear's new album Blackout came out. Baby Bash has well improved since his last songs. He has even gotten a lot cooler.

Here is my track-by-track review:

Numbero Uno-A great beat this song has. And great rapping also. 4\5
Cyclone-This is the first single off of the album. And obviously the title track. And what I think is that this is best song of the album. The song has a great beat, and hysterical lyrics. 5\5
Supa Chic-Great piano playing and also a good song to dance to. 4\5
Just Like that-Good, but kind of strange. What is strange about this song is that if you listen to the song the drum beats sound like 80's music. 3\5
What It is-Great rapping. And also creative back ground. 5\5
Mamacita-The song sounds a lot like his song Cyclone. Because listen two the lyrics. It is the very same subject. 4\5
Dip With you-Who is the girl? She is hot! lol 5\5
Sperweals-Man he sounds a lot different than his usual voice. 4\5
As days go-The girl in the song sounds exactly like Paula DeAnda. No wonder. Cause baby bash was in doing too much by Paula DeAnda. 5\5
Na Na-Strange. 3\5
Thrill is gone-If you listen to this song it seems kike it is never gone. 4\5
Don't stop-Love the way he is singing. 4\5
Mean thug-4\5

Top 5 songs:

1)Cyclone
2)Nembero Uno
3)Dip with you
4)What it is
5)As days go

Final Thoughts:
Baby bash is back and better than ever. And his new album cyclone is just a really good album. Ver collective songs. I love it!
So Disappointed
Baby Bash's Cyclone is a real disappointment for me. I was expecting a great album like his last one Super Saucy and ended up with this. I do have to give the album 3 stars though for a couple noticable tracks. Cyclone, of course is a club banger, and one of the biggest songs out as of right now, then there is What Is It which features Sean Kingston. Sean Kingston is blowing up the radio and the music scene right now, and this track is another huge club joint. Dip With You is the best track on the album in my opinion. I am a huge Danity Kane fan and for Baby Bash to include Aundrea Fimbres on his album was a great move for him. Her vocals are excellent and the beat is also amazing. Other noteable tracks are NaNa (The Yummy Song), Mamacita, and As Days Go By (The Love Letter) with Paula DeAnda, another wonderful voice to add to the album. I only have one question for Baby Bash, what happened to the suga suga days? And where are your usual guests Natalie & Frankie J? Just Wondering. Buy the few songs, skip the rest.