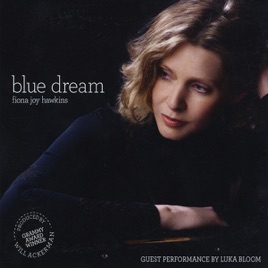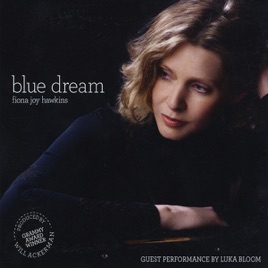 22 Songs, 1 Hour 7 Minutes
Released:

Oct 20, 2008

℗ 2008 Little Hartley Music
Ratings and Reviews
Stellar!
"Blue Dream" is Fiona Joy Hawkins' anxiously-anticipated new release. Recorded and produced by Will Ackerman at his Imaginary Road Studios and performed on the studio's legendary Steinway B grand piano, Hawkins is supported by a dizzying array of musical talent. I love her previous two albums, "Ice" and "Angel Above My Piano," but "Blue Dream" is stunning. Calling the musical style "World Fusion Piano," the music ranges from quiet and dreamy piano to full orchestrations. Instrumentation includes Didjeribone, a variety of percussion instruments, flugel horn, mandolin, voices, and many conventional instruments as well. Many of the tracks have vocals, but most are wordless. Those with lyrics are sung in either Gaelic or Luganda (from Uganda). There is a total of twenty-two tracks, but the longer pieces are connected by "Interludes" and other shorter pieces, creating a single (68-minute) suite of music. Hawkins says: "'Blue Dream' is autobiographical and the most personal piece of music I have yet written." Quoting Will Ackerman: "'Blue Dream' began as the most ambitious project of my entire career and resulted in one of the most remarkable collaborations this genre has ever known." This is a powerful statement coming from the founder of Windham Hill, who has worked with many of the world's finest musicians and composers over the past thirty-five years. 2008 has been an incredible year for new music, but I would expect "Blue Dream" to top many music charts and "Favorites" lists for the year; it will certainly be on mine!

"Blue Dream" has no weak points at all. It begins with "Freedom," a prelude for voice (Noah Wilding) and piano that sets the tone of the album - very fluid, ethereal, and soft-spoken. "Feeling Sunshine" reflects Hawkins' Australian heritage with the sound of Didjeribone (an adaptation of the traditional Didgeridoo). One of the more energetic pieces on the album, it exudes fun and happiness. "From the Outside" is a beautifully flowing ensemble piece that includes piano, vocals, English horn, and acoustic stringed instruments. Since this album is autobiographical, it seems logical that themes from some of Hawkins' best-known pieces would flow in and out of the music. Bits of "Flight of the Albatross" are discernible in this piece and "Sapphire Interlude," which follows. "Standing Up" is much darker and more intensely emotional. Some passages are solo piano and others are more orchestrated - a knockout! The title track is breathtaking in its simplicity and emotional depth - piano, cello, and keyboard are achingly beautiful. Irish folk-singer Luka Bloom appears on "Contemplating," blending haunting vocals with Noah Wilding. "Samite's Interlude" features Samite Mulondo in a piece of African origin and influence. "The Void" is more classical in styling, with piano, cello, and keyboard - very still yet intense. "Turquoise Interlude" was composed by Philip Aaberg, one of my all-time favorite artists - very ambient and floating. Hawkins is also a visual artist, so "Prelude to a Painting" reflects that part of her life with a gentle duet for piano and acoustic guitar (Ackerman). "Somewhere" brings the dream to an end very quietly and gently with piano, cello, keyboard and didgeridoo. What an incredible musical experience this album is!!! I give it my highest recommendation!

Blue Dream - Dreamscape voyage...
This album while not being too slow, is a relaxed pace, that takes you vividly from one cloud to the next. Australian born Fiona Joy Hawkins, takes us on a journey, where we find ourselves fulfilled by her artistic play, until it ends... then we want more. A great album if you are looking to end a day on a relaxed flight, sailing amongst the clouds. Great red wine sipping, with the shoes kicked off, kind of music. If you need to be energetic for anything other than "horsing-around", this is not what you want to listen to.
Delightful
This CD is a wonderful addition to my collection. Piano solos get old but this has enough background instrumentation to keep it interesting. The vocals are ethereal and not intrusive. There is a haunting quality (which I love) to most of the songs, but Feeling Sunshine is happy and fun. I especially love the title track, Blue Dream, as well as Standing Up. I very much recommend this CD.