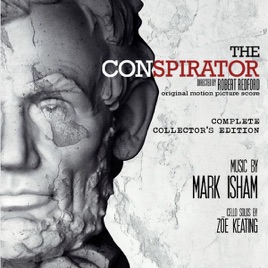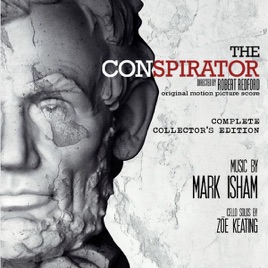 The Conspirator - Complete Collector's Edition (Original Motion Picture Score)
Mark Isham
| | TITLE | | TIME |
| --- | --- | --- | --- |
| | A Genuine War Hero (Film Version) | | |
| | | | |
| | A Traitorous and Murderous Conspiracy | | |
| | | | |
| | One Bullet, But Not One Man | | |
| | | | |
| | | | |
| | | | |
| | Second Floor, On the Left | | |
| | In the Matter of Mary Surratt | | |
| | If You Can Prove She's Guilty... | | |
| | | | |
| | | | |
| | | | |
| | | | |
| | | | |
| | | | |
| | | | |
| | | | |
| | | | |
| | | | |
| | | | |
| | | | |
| | You Need to Tread Lightly | | |
| | | | |
| | Anna Pleads to See Her Mother | | |
| | Our Laws Are Written Here | | |
| | | | |
| | There Should Only Be Three | | |
| | | | |
| | In Times of War, the Law Falls Silent, Pt. 1 | | |
| | In Times of War, the Law Falls Silent, Pt. 2 | | |
| | | | |
| | Peace At Last (Film Version) | | |
| | | | |
| | A Genuine War Hero (Alt. Version) | | |
| | One Bullet, But Not One Man (Alt. Ending Pickup) | | |
| | Peace At Last (Original Version) | | |
38 Songs, 1 Hour 4 Minutes
Released:

Apr 5, 2011

℗ 2011 MIM Records
Ratings and Reviews
Superb Dramatic Music For Film.
I enjoy Mark Isham's work a great deal and I never go in to one of his scores expecting large orchestras and memorable themes. Does that make him a bad composer? Not at all! What Mark does so well with his music is that he sinks himself in to the story on a molecular level. This takes talent. This score is a great example of this. There is a brooding instensity of emotion that could not be experienced in any other way in order to have such a powerful impact. I say well done Mark! As always, you know what's best. I also salute Robert Redford for he is one of the greatest storytellers in the business. To put this score down would be like telling Van Gogh he has no sense of color. Robert Redford knew the color he wanted and he knew the artist that would best compliment his vision. Excellent work!
Why 38 songs?
I just saw the movie yesterday and I will say that it isn't half bad. I doubt it will win any awards or gain the actors in it any more fame than many already had attained. As for Mark Isham's soudtrack, it was all very bland. It fit in the film just fine, but it is no amazing score. I was dissapointed to not see Ray LaMontagne's song on the track list. I am guessing it will be in a "music inspired by.." kind of deal. Either way, too bad it wasn't better. I really wanted to like it.