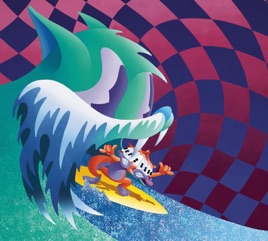 EDITORS' NOTES
Three years after their 2007 debut, MGMT subtly reinvent themselves. Congratulations still bursts with color, but the antic edges have been sanded down—well, save for the garage-rock freak-out of "Brian Eno," a hyperactive tribute to the ambient icon. "It's Working" crisply revamps Phil Spector's wall of sound; "Song for Dan Treacy" plays nimble cat-and-mouse with '60s organ and falsetto vocals. "Congratulations" wraps up with a wry take on the perils of stardom—the spiritual flip side to their debut's fanciful "Time to Pretend."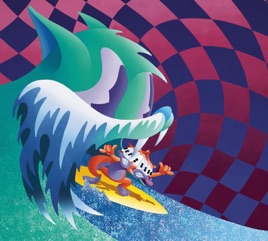 EDITORS' NOTES
Three years after their 2007 debut, MGMT subtly reinvent themselves. Congratulations still bursts with color, but the antic edges have been sanded down—well, save for the garage-rock freak-out of "Brian Eno," a hyperactive tribute to the ambient icon. "It's Working" crisply revamps Phil Spector's wall of sound; "Song for Dan Treacy" plays nimble cat-and-mouse with '60s organ and falsetto vocals. "Congratulations" wraps up with a wry take on the perils of stardom—the spiritual flip side to their debut's fanciful "Time to Pretend."
9 Songs, 43 Minutes
Released:

Apr 7, 2010

℗ 2010 Sony Music Entertainment
Ratings and Reviews
Incredible
If I was at a party with Jesus, Ghandi, Abraham Lincoln and Tony Soprano and they asked me to play some music for them, I'd probably play this.
Siberian Breaks
Some of the reviews on here frustrate me. "Kids," "Time to Pretend," and "Electric Feel" are not the songs that most accurately represent MGMT's style. They were popularized as singles, and, yes, a large fan base was developed based on those songs alone. However, MGMT's true sound is better represented by songs such as "Weekend Wars" and "Of Moons, Birds, and Monsters." This album expands upon that style.

MGMT is a psychedelic rock band, not an indie-pop-hipster band. As the band has already explained, those looking for another "Electric Feel" will be quite disappointed. However, if you like the more imaginative and musically complex songs from Oracular Spectacular, Congratulations should please.

I personally am absolutely in love with this album. MGMT is bringing back the spirit of Pink Floyd with these songs. Though I loved Oracular Spectacular, I find this album to be more cohesive, and ultimately better. "Siberian Breaks" is nothing short of brilliant. My only complaint is that Congratulations is too short. It left me wanting much more! Oh well. The 'repeat' setting proves itself highly necessary yet again.
"Real" MGMT fans are annoying me
I, like many other people I am sure, discovered MGMT with one of their 3 "hit" songs. The first time I heard Electric Feel I was sucked in immediatley. That is just a fantastic song. I bought all of Oracular Spectacular and really thought it was a fantastic album and not just because of Kids, Electric Feel, and Time to Pretend. This album, however, is just different, as it should be and as would be expected. You don't want to make a carbon copy of your first album. But it just doesn't have the same hook to it as Oracular. I don't think it is awful but I also don't think it is great but I will definitely give it time to grow. What is bothering me are all of the psycho fans that seem to be insinuating that if you don't LOVE Congratulations that you are not a true MGMT fan and "don't understand what they are all about." Whether these fans and the band themselves like it or not, Kids, Time to Pretend, and Eletric Feel are part of their catalogue. They wrote the songs, they are fantastic songs and MGMT and the fans should not be afraid of them. These are the songs that got people to listen to all of Oracular Spectacular and fall in love with the band. I'm sure MGMT gets sick of playing these song, many famous bands have their "hit" songs that they get sick of, but to say that if you like those songs you don't really like MGMT is just insulting because even if those songss are poppier than MGMT wants to be they are still stamped with the MGMT sound and I don't think could be produced by any other band. I am looking forward to hearing the new album live when I see them this summer and I'm hoping until then I can fend off the "you just don't get it crowd."