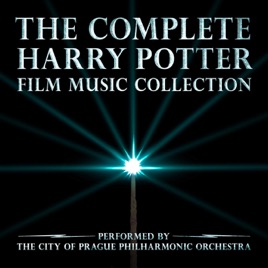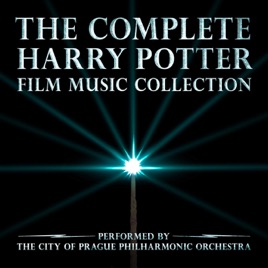 TITLE
TIME

Hedwig's Theme (From "Harry Potter and the Philosopher's Stone")

By John Williams - The City of Prague Philharmonic Orchestra & Nic Raine

Harry's Wondrous World (From "Harry Potter and the Philosopher's Stone")

By John Williams - The City of Prague Philharmonic Orchestra & James Fitzpatrick

Nimbus 2000 (From "Harry Potter and the Philosopher's Stone")

By John Williams - The City of Prague Philharmonic Orchestra & James Fitzpatrick

Christmas At Hogwarts (From "Harry Potter and the Philosopher's Stone")

By John Williams - The City of Prague Philharmonic Orchestra & James Fitzpatrick

Leaving Hogwarts (From "Harry Potter and the Philosopher's Stone")

By John Williams - The City of Prague Philharmonic Orchestra & James Fitzpatrick

Fawkes the Phoenix (From "Harry Potter and the Chamber of Secrets")

By John Williams - The City of Prague Philharmonic Orchestra & Nic Raine

The Chamber of Secrets (From "Harry Potter and the Chamber of Secrets")

By John Williams - The City of Prague Philharmonic Orchestra & James Fitzpatrick

Gilderoy Lockhart (From "Harry Potter and the Chamber of Secrets")

By John Williams - The City of Prague Philharmonic Orchestra & James Fitzpatrick

Dobby the House Elf (From "Harry Potter and the Chamber of Secrets")

By John Williams - The City of Prague Philharmonic Orchestra & James Fitzpatrick

Cakes for Crabbe and Goyle (From "Harry Potter and the Chamber of Secrets")

By John Williams - The City of Prague Philharmonic Orchestra & James Fitzpatrick

Reunion of Friends (From "Harry Potter and the Chamber of Secrets")

By John Williams - The City of Prague Philharmonic Orchestra & James Fitzpatrick

Aunt Marge's Waltz (From "Harry Potter and the Prisoner of Azkaban")

By John Williams - The City of Prague Philharmonic Orchestra & James Fitzpatrick

The Knight Bus (From "Harry Potter and the Prisoner of Azkaban")

By John Williams - The City of Prague Philharmonic Orchestra & James Fitzpatrick

Double Trouble (From "Harry Potter and the Prisoner of Azkaban")

By John Williams - The City of Prague Philharmonic Orchestra & James Fitzpatrick

A Window to the Past (From "Harry Potter and the Prisoner of Azkaban")

By John Williams - The City of Prague Philharmonic Orchestra & James Fitzpatrick

Witches, Wands and Wizards (From "Harry Potter and the Prisoner of Azkaban")

By John Williams - The City of Prague Philharmonic Orchestra & James Fitzpatrick

Mischief Managed / A Window to the Past / Buckbeak's Flight (From "Harry Potter and the Prisoner of Azkaban")

By John Williams - The City of Prague Philharmonic Orchestra & Nic Raine

Quidditch World Cup / Foreign Visitors Arrive (From "Harry Potter and the Goblet of Fire")

By Patrick Doyle - The City of Prague Philharmonic Orchestra & James Fitzpatrick

The Golden Egg (From "Harry Potter and the Goblet of Fire")

By Patrick Doyle - The City of Prague Philharmonic Orchestra & James Fitzpatrick

Neville's Waltz (From "Harry Potter and the Goblet of Fire")

By Patrick Doyle - The City of Prague Philharmonic Orchestra & James Fitzpatrick

Harry in Winter (From "Harry Potter and the Goblet of Fire")

By Patrick Doyle - The City of Prague Philharmonic Orchestra & James Fitzpatrick

Potter Waltz (From "Harry Potter and the Goblet of Fire")

By Patrick Doyle - The City of Prague Philharmonic Orchestra & James Fitzpatrick

Black Lake (From "Harry Potter and the Goblet of Fire")

By Patrick Doyle - The City of Prague Philharmonic Orchestra & James Fitzpatrick

Hogwarts March (From "Harry Potter and the Goblet of Fire")

By Patrick Doyle - The City of Prague Philharmonic Orchestra & James Fitzpatrick

Another Year Ends (From "Harry Potter and the Goblet of Fire")

By Patrick Doyle - The City of Prague Philharmonic Orchestra & James Fitzpatrick

Hogwarts Hymn (From "Harry Potter and the Goblet of Fire")

By James Fitzpatrick & Patrick Doyle

A Journey to Hogwarts / Fireworks (From "Harry Potter and the Order of the Phoenix")

By Nicholas Hooper - The City of Prague Philharmonic Orchestra & James Fitzpatrick

Professor Umbridge (From "Harry Potter and the Order of the Phoenix")

By Nicholas Hooper - The City of Prague Philharmonic Orchestra & James Fitzpatrick

Sirius Deception / Dumbledore's Army (From "Harry Potter and the Order of the Phoenix")

By Nicholas Hooper - The City of Prague Philharmonic Orchestra & James Fitzpatrick

Flight of the Order of the Phoenix (From "Harry Potter and the Order of the Phoenix")

By Nicholas Hooper - The City of Prague Philharmonic Orchestra & James Fitzpatrick

Loved Ones and Leaving (From "Harry Potter and the Order of the Phoenix")

By Nicholas Hooper - The City of Prague Philharmonic Orchestra & James Fitzpatrick

Dumbledore's Farewell (From "Harry Potter and the Half Blood Prince")

By Nicholas Hooper - The City of Prague Philharmonic Orchestra & Evan Jolly

Obliviate (From "Harry Potter and the Deathly Hallows, Pt. 1")

By Alexandre Desplat - The City of Prague Philharmonic Orchestra & James Fitzpatrick

Lily's Theme (From "Harry Potter and the Deathly Hallows, Pt. 2")

By Alexandre Desplat - The City of Prague Philharmonic Orchestra & James Fitzpatrick
34 Songs, 1 Hour 59 Minutes
Released:

Mar 13, 2012

℗ 2012 Silva America
Ratings and Reviews
Only one cue is actually a new recording.
These are fine performances, with no doubt. My problem is that this collection only has 3 songs representing the las three installments if the Harry Potter series, while the other five films have at least five songs representing them. Another problem I have is that "Dumbledore's Farewell" is the only cue on this album that has not been previously recorded and released by Prague. Cues from the first 5 films have been released on Silva Screen's previous Harry Potter albums, while the final two cues on this album have been released on the Albums "Film Music 2010" and Film Music 2011" respectively. The absence of a decent amount of recordings from the last three Harry Potter films is just ABSOLUTELY UNACCEPTABLE!!! Do not buy this album, for there is only one recording that you actually don't have already. Very disappointed, as I would love to hear many cues rerecorded from Hooper's HBP and Desplat's DH scores. Do not buy this album.
AMAZING-ESPECIALLY FOR THOSE WHO LIKE HP AND VALUE MUSIC!!!
This highlights a lot of the best songs from the series, such as Double Trouble, Golden Egg, Hogwarts March, Professor Umbridge, Gilderoy Lockhart, Dumbledores Farewell, Quidditch World Cup, Potter Waltz, Harry in the Winter, Lilys Theme, Flight of the Order of the Pheonix and SO much more! This is great for Potterheads who like the scores that are during very important moments or that are very beautiful. This is also a beautiful album for those who appreciate music.
Cool
It's really cool!!!!!