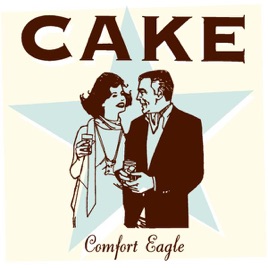 | | TITLE | | TIME |
| --- | --- | --- | --- |
| | | | |
| | | | |
| | | | |
| | | | |
| | Commissioning a Symphony In C | | |
| | Arco Arena (Instrumental) | | |
| | | | |
| | | | |
| | | | |
| | | | |
| | | | |
11 Songs, 36 Minutes
Released:

Jul 24, 2001

℗ 2001 Sony Music Entertainment Inc.
Ratings and Reviews
Amazing.
This is the first album by Cake I got, and I'm certainly happy I was because it got me hooked beyond belief. The songs on this album are definitely songs that you can listen to over and over again and not get tired of, even when you start singing them yourself.
1. Opera Singer - Not my favorite song because of the topic they chose, but they were still able to make it mature and the lyrics are really great in some parts. (8/10)
2. Meanwhile, Rick James... - Even though this may seem like a boring song, it's one of my favorites. The lyrics are fantastic, and I just never get tired of how emotional and thought-provoking they are. (9/10)
3. Shadow Stabbing - Also one of my favorites off of this album. A few lines make you wonder, and once you think for a while, it all starts to piece together and make sense. The guitar is really great,
and all-in-all, this is a really great song. (9.5/10)
4. Short Skirt/Long Jacket - I like this song, though it's kind of too redundant at times. Though, still a really great song with fabulous lyrics (as usual). The image you get of this woman is great. (9/10)
5. Commissioning A Symphony In C - Possibly my favorite on the album. The imagery of the concert hall and music is very clear, and I feel as if I'm "sitting there thinking my thoughts", and "breathing in my breath". Just a really, really terrific song with amazing lyrics, once again. (9.9/10)
6. Arco Arena - Some people would probably get lost on the fact that there are no words, but just instruments. However, if you take the time to listen to it, you start to see its beauty, and soon you'll start humming it. (9/10)
7. Comfort Eagle - Definitely the highlight of the album, though not my personal favorite. Still, it's up there. A catchy melody is met by, yep, you've guessed it, really great lyrics. (9.5/10)
8. Long Line Of Cars - I'm not too sure about this. At one moment I'll love it, at one I'll hate it. Though one thing's for sure: the rhymes are really good. (8.5/10)
9. Love You Madly - I love this song! It's not one of my favorites, but definitely catchy. It's so upbeat, though the lyrics are actually kind of pessimisstic. Sounds kind of like a 'wishful thinking' song to me. Love it. (9.5/10)
10. Pretty Pink Ribbon - I think a lot of people wouldn't like this, but I do, personally. Once you keep listening, you start to realize that they're talking about without this person's looks, they'd be nowhere. Or at least, that's the impression they give you. It's not such a peppy, upbeat song as say Comfort Eagle, but still manages to leave this catchy tune printed in your head, along with thought-provoking lyrics. (9/10)
11. World Of Two - I bet the majority of people who bought this album would agree that this isn't the best of the songs. It's just a little /too/ slow compared to the other tracks. However, the lyrics overcompensate. And even though it's redundant, it's fooling, which is good and tricky. You think they're talking about how much they love somebody and want to be in the world of two with them, though it's quite the contrary. (8/10)
Hope this helped.
Hands Down
This is, hands down, Cake's best album. A bold claim, I know, but having listened to Cake for many years I've found that Comfort Eagle stands out time and time again. Always uplifting. Always puts me in a good mood. I definately recomend this album.
Great Album
This is a classic album that you can listen to in the car, on a rainy day, or where ever and it raises your mood. It has a great beat and after you listen to all of the songs five times you'll be singing them in the shower.