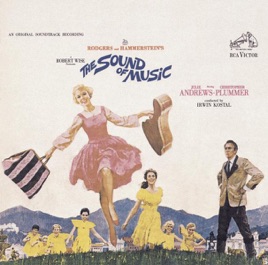 EDITORS' NOTES
This Rodgers and Hammerstein musical, about a wayward nun sent to watch over a retired general's seven children, boasts some of the mid-20th century's most indelible songs—the ebullient melody lesson "Do-Re-Mi," the comforting "My Favorite Things," the jaunty "So Long, Farewell," and the anthemic title track. Julie Andrews' tour-de-force performance as the irrepressible Maria anchors the ensemble, with her honeyed soprano giving extra bounce to the playful "The Lonely Goatherd" and adding emotional resonance to the love duet "Something Good."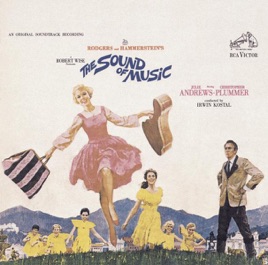 The Sound of Music (Original Soundtrack Recording)
Various Artists
EDITORS' NOTES
This Rodgers and Hammerstein musical, about a wayward nun sent to watch over a retired general's seven children, boasts some of the mid-20th century's most indelible songs—the ebullient melody lesson "Do-Re-Mi," the comforting "My Favorite Things," the jaunty "So Long, Farewell," and the anthemic title track. Julie Andrews' tour-de-force performance as the irrepressible Maria anchors the ensemble, with her honeyed soprano giving extra bounce to the playful "The Lonely Goatherd" and adding emotional resonance to the love duet "Something Good."
TITLE
TIME

Prelude / The Sound of Music

Irwin Kostal & Julie Andrews

Overture / Preludium (Dixit Dominus)

Irwin Kostal, Anna Lee, Portia Nelson, Marni Nixon & Evadne Baker

Anna Lee, Portia Nelson, Marni Nixon & Evadne Baker

Evadne Baker, Anna Lee, Portia Nelson & Marni Nixon

Sixteen Going On Seventeen

Charmian Carr & Dan Truhitte

Julie Andrews, Charmian Carr, Heather Menzies, Nicholas Hammond, Duane Chase, Angela Cartwright, Debbie Turner & Kym Karath

Charmian Carr, Heather Menzies, Nicholas Hammond, Duane Chase, Angela Cartwright, Kym Karath, Debbie Turner & Bill Lee

Julie Andrews, Charmian Carr, Heather Menzies, Nicholas Hammond, Duane Chase, Angela Cartwright, Debbie Turner & Kym Karath

Charmian Carr, Heather Menzies, Nicholas Hammond, Duane Chase, Angela Cartwright, Debbie Turner & Kym Karath

Evadne Baker, Anna Lee, Portia Nelson & Marni Nixon

Julie Andrews, Bill Lee, Charmian Carr, Heather Menzies, Nicholas Hammond, Duane Chase, Angela Cartwright, Debbie Turner & Kym Karath

Climb Ev'ry Mountain (Reprise)

Chorus and Orchestra
16 Songs, 45 Minutes
Released:

Jan 1, 1965

℗ Originally released in 1965. All rights reserved by Rodgers and Hammerstein Organization Production.
Ratings and Reviews
sound of music
i love i mean love the sound of music. love this album and the music and the movie it is amazing!!!!!!
sound of music
I really love the way the songs make you feel. the album is good, and julie andrews is really good in the movie and songs.
Amazing
The epitome of all musicals ever in history.