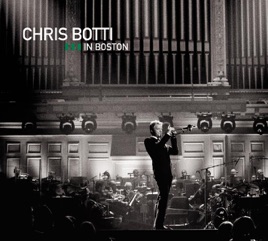 EDITORS' NOTES
With its prestigious Symphony Hall locale and superstar guest list including cellist Yo-Yo Ma, vocalist/songwriter Josh Groban, and singer/actress Katherine McPhee, Live in Boston reflects Chris Botti's immense success at the time of its recording in September 2008. Backed by The Boston Pops and conductor Keith Lockhart, the triumphant crossover trumpeter dazzles with his regular rhythm section. Former boss and longtime champion Sting sings two of his own songs ("Seven Days," "If I Ever Lose My Faith in You"), while rock-pop singer/songwriter John Mayer surprises with a sweet vocal on Rodgers & Hart's "Glad to Be Unhappy." Aerosmith's Steven Tyler charms the hometown audience with Charlie Chaplin's "Smile," and Botti closes the night with a dazzling version of "Time to Say Goodbye."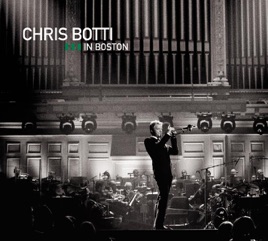 EDITORS' NOTES
With its prestigious Symphony Hall locale and superstar guest list including cellist Yo-Yo Ma, vocalist/songwriter Josh Groban, and singer/actress Katherine McPhee, Live in Boston reflects Chris Botti's immense success at the time of its recording in September 2008. Backed by The Boston Pops and conductor Keith Lockhart, the triumphant crossover trumpeter dazzles with his regular rhythm section. Former boss and longtime champion Sting sings two of his own songs ("Seven Days," "If I Ever Lose My Faith in You"), while rock-pop singer/songwriter John Mayer surprises with a sweet vocal on Rodgers & Hart's "Glad to Be Unhappy." Aerosmith's Steven Tyler charms the hometown audience with Charlie Chaplin's "Smile," and Botti closes the night with a dazzling version of "Time to Say Goodbye."
| | TITLE | | TIME |
| --- | --- | --- | --- |
| | | | |
| | When I Fall In Love (Live) | | |
| | Seven Days (feat. Sting & Dominic Miller) [Live] | | |
| | Emmanuel (feat. Lucia Micarelli) [Live] | | |
| | I've Got You Under My Skin (feat. Katharine McPhee) [Live] | | |
| | Cinema Paradiso (feat. Yo-Yo Ma) [Live] | | |
| | Broken Vow (feat. Josh Groban) [Live] | | |
| | | | |
| | Glad to Be Unhappy (feat. John Mayer) [Live] | | |
| | | | |
| | Smile (feat. Steven Tyler) [Live] | | |
| | If I Ever Lose My Faith In You (feat. Sting & Dominic Miller) [Live] | | |
| | Time to Say Goodbye (Live) | | |
13 Songs, 1 Hour 12 Minutes
Released:

Mar 31, 2009

℗ 2009 Sony Music Entertainment
Ratings and Reviews
A Musical Boston Tea Party!
A variety of guests from different music genres make this a party not to be missed! With Keith Lockheart and the Boston Pops Orchestra providing the backdrop, Botti remains the focus while showcasing the extraordinary talent that joins him on-stage! John Mayer's stirring rendition of "Glad To Be Unhappy", Botti and Band on jazz infused "Flamenco Sketches" and Yo Yo Ma on soul stirring "Cinema Paradiso", and Lucia Micarelli on "Emmanuel" are especially haunting! Sting, as usual, is the perfect vocal matchup for Chris on trumpet and "Smile" with Steven Tyler is one of the best versions of that song I've heard. And Josh Groban on "Broken Vow" moved me to tears! A lovely Boston tea party--brewed to absolute perfection!
FINALLY! A NEW CD FROM CHRIS BOTTI!!!!!!
This album is AMAZING as usual for Mr. Botti. He always has unique pairings and this release is no different. "Broken Vow" with Josh Groban is ethereal,"Glad To Be Unhappy" is my favorite and I like the fresh take of Sting's "Seven Days". If you've never heard Chris Botti before, this album will hook you!
A Musical Memory To Last A Lifetime
While nothing can compare with the thrill of being in Boston's Symphony Hall the nights this was recorded, the CD is the next best thing. The sold out crowd was treated to hometown musicians Steven Tyler and Yo-Yo Ma. Steven brought down the house, microphone scarves flying, to Cryin' and Yo-Yo had the audience in tears with Cinema Paradiso. Seeing John Mayer in a tuxedo singing a Sinatra tune was amazing, as was the quartet of Yo-Yo, Dominic Miller, Sting (on the lute) and Chris performing Fragile. The only thing missing here is Sy Smith's incredible rendition of The Look Of Love. She was an audience favorite and it was a crime not to include her.