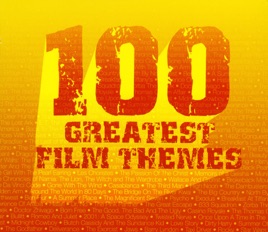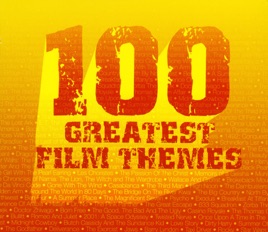 100 Greatest Film Themes
Various Artists
TITLE
TIME

20th Century Fox Fanfare and Cinemascope Extension

The City of Prague Philharmonic Orchestra

Tara's Theme (From "Gone With The Wind")

The City of Prague Philharmonic Orchestra

As Time Goes By (From "Casablanca")

The City of Prague Philharmonic Orchestra

The Harry Lime Theme (From "The Third Man")

The City of Prague Philharmonic Orchestra

Do Not Forsake Me Oh My Darlin' (From "High Noon")

The City of Prague Philharmonic Orchestra

March (From "The Dambusters")

The City of Prague Philharmonic Orchestra

Main Theme (From "The Man With The Golden Arm")

NYJO

Main Theme (From "Around The World In 80 Days")

The City of Prague Philharmonic Orchestra

Colonel Bogey (From "The Bridge On The River Kwai")

The City of Prague Philharmonic Orchestra

The City of Prague Philharmonic Orchestra

Main Title (From "North By Northwest")

The City of Prague Philharmonic Orchestra

Parade of the Charioteers (From "Ben-Hur")

The City of Prague Philharmonic Orchestra

Young Love (From "A Summer Place")

The City of Prague Philharmonic Orchestra

Main Theme (From "The Magnificent Seven")

The City of Prague Philharmonic Orchestra

Main Theme / Murder (From "Psycho")

The City of Prague Philharmonic Orchestra

The City of Prague Philharmonic Orchestra

Moon River (From "Breakfast At Tiffany's")

The City of Prague Philharmonic Orchestra

Overture (From "Lawrence Of Arabia")

The City of Prague Philharmonic Orchestra

Baby Elephant Walk (From "Hatari")

The City of Prague Philharmonic Orchestra

The James Bond Theme (From "Dr. No")

The City of Prague Philharmonic Orchestra

Main Theme (From "Pink Panther")

The City of Prague Philharmonic Orchestra

Main Theme (From "The Great Escape")

The City of Prague Philharmonic Orchestra

Main Theme (From "633 Squadron")

The City of Prague Philharmonic Orchestra

Zorba's Dance (From "Zorba The Greek")

The City of Prague Philharmonic Orchestra

Lara's Theme (From "Doctor Zhivago")

The City of Prague Philharmonic Orchestra

Main Theme (From "Born Free")

The City of Prague Philharmonic Orchestra

Main Title (From "The Good, The Bad And The Ugly")

The City of Prague Philharmonic Orchestra

The City of Prague Philharmonic Orchestra

The Windmills Of Your Mind (From "The Thomas Crown Affair")

The City of Prague Philharmonic Orchestra

Main Theme (From "Bullitt")

NYJO

Love Theme (From "Romeo and Juliet")

The City of Prague Philharmonic Orchestra

Also Sprach Zarathustra: Einleitung, oder Sonnenaufgang (From "2001: A Space Odyssey")

The City of Prague Philharmonic Orchestra

Main Theme (From "Twisted Nerve")

The City of Prague Philharmonic Orchestra

Jill's Theme (From "Once Upon A Time In The West")

The City of Prague Philharmonic Orchestra

Main Theme (From "Midnight Cowboy")

The City of Prague Philharmonic Orchestra

Raindrops Keep Fallin' On My Head (From "Butch Cassidy And The Sundance Kid")

Keith Ferreira & The City of Prague Philharmonic Orchestra

Love Story (From "Love Story")

The City of Prague Philharmonic Orchestra

Suite (From "Dirty Harry")

NYJO

The Summer Knows (From "Summer Of '42")

The City of Prague Philharmonic Orchestra

Speak Softly Love (From "The Godfather")

The City of Prague Philharmonic Orchestra

Dueling Banjos (From "Deliverance")

Derek Smith & Keith Billik

Tubular Bells (From "The Exorcist")

Mark Ayres

The City of Prague Philharmonic Orchestra

Sarabande (From "Barry Lyndon")

The City of Prague Philharmonic Orchestra

Theme (From "Taxi Driver")

The City of Prague Philharmonic Orchestra

Gonna Fly Now (From "Rocky")

The London Screen Orchestra

Main Titles (From "Star Wars: Episode IV - A New Hope")

The City of Prague Philharmonic Orchestra

The Conversation Begins / Main Title / Resolution And Finale (From "Close Encounters of The Third Kind")

The City of Prague Philharmonic Orchestra

Cavatina (From "The Deer Hunter")

The City of Prague Philharmonic Orchestra

Main Theme (From "Superman")

The City of Prague Philharmonic Orchestra

End Titles (From "Star Trek: The Motion Picture")

The City of Prague Philharmonic Orchestra

Theme (From "Somewhere in Time")

The City of Prague Philharmonic Orchestra

Chariots Of Fire (From "Chariots Of Fire")

Mark Ayres

The Raiders March (From "Raiders of the Lost Ark")

The City of Prague Philharmonic Orchestra

Bicycle Chase & End Credits (From "E.T. the Extra-Terrestrial")

The City of Prague Philharmonic Orchestra

Main Theme (From "Merry Christmas, Mr. Lawrence")

Mark Ayres

Main Theme (From "The Natural")

The City of Prague Philharmonic Orchestra

Deborah's Theme (From "Once Upon A Time In America")

The City of Prague Philharmonic Orchestra

Main Theme (From "Back to the Future")

The City of Prague Philharmonic Orchestra

Main Theme (From "Out Of Africa")

The City of Prague Philharmonic Orchestra

Main Theme (From "Jean De Florette")

The City of Prague Philharmonic Orchestra

Gabriel's Oboe (From "The Mission")

The City of Prague Philharmonic Orchestra

Love Theme (From "Cinema Paradiso")

The City of Prague Philharmonic Orchestra

Main Theme (From "Batman")

The City of Prague Philharmonic Orchestra

The John Dunbar Theme (From "Dances With Wolves")

The City of Prague Philharmonic Orchestra

Main Title (From "Edward Scissorhands")

The City of Prague Philharmonic Orchestra

Unchained Melody (From "Ghost")

The City of Prague Philharmonic Orchestra

Suite (From "Robin Hood: Prince Of Thieves")

The City of Prague Philharmonic Orchestra

Conquest Of Paradise (From "1492: Conquest Of Paradise")

The City of Prague Philharmonic Orchestra

Main Theme (From "Last Of The Mohicans")

The City of Prague Philharmonic Orchestra

Suite (From "Jurassic Park")

The City of Prague Philharmonic Orchestra

You're so Cool (From "True Romance")

London Music Works

The Heart Asks Pleasure First (From "The Piano")

The City of Prague Philharmonic Orchestra

Main Theme (From "Schindler's List")

The City of Prague Philharmonic Orchestra

Il Postino (From "Il Postino")

The City of Prague Philharmonic Orchestra

End titles (From "The Shawshank Redemption")

The City of Prague Philharmonic Orchestra

End Titles (From "Braveheart")

The City of Prague Philharmonic Orchestra

The Balcony Scene (From "William Shakespeare's Romeo + Juliet")

The City of Prague Philharmonic Orchestra

As Far As Florence / Rupert Bear (From "The English Patient")

The City of Prague Philharmonic Orchestra

Main Themes (From "Dragonheart")

The City of Prague Philharmonic Orchestra

Main Title (From "Air Force One")

The City of Prague Philharmonic Orchestra

My Heart Will Go On - Instrumental (From "Titanic")

The City of Prague Philharmonic Orchestra

Hymn To The Fallen (From "Saving Private Ryan")

The City of Prague Philharmonic Orchestra

Waltz No. 2 From Jazz Suite No. 2 (From "Eyes Wide Shut")

By Dmitri Shostakovich - The City of Prague Philharmonic Orchestra

Any Other Name (From "American Beauty")

London Music Works

Duel Of The Fates (From "Star Wars: Episode I - The Phantom Menace")

The City of Prague Philharmonic Orchestra

Now We Are Free (From "Gladiator")

The City of Prague Philharmonic Orchestra

The Fellowship (From "The Lord of the Rings: The Fellowship of the Ring")

The City of Prague Philharmonic Orchestra

Hedwig's Theme (From "Harry Potter and the Philosopher's Stone")

The City of Prague Philharmonic Orchestra

Main Theme (From "Spider-Man")

The City of Prague Philharmonic Orchestra

Suite (From "Pirates Of The Caribbean: The Curse Of The Black Pearl")

The City of Prague Philharmonic Orchestra

Griet's Theme (From "The Girl With The Pearl Earring")

The City of Prague Philharmonic Orchestra

Les Choristes (From "Les Choristes")

The City of Prague Philharmonic Orchestra

Resurrection (From "Passion Of The Christ")

The City of Prague Philharmonic Orchestra

Sayuri's Theme & End Credits (From "Memoirs of a Geisha")

The City of Prague Philharmonic Orchestra

A Prayer for Peace (From "Munich")

The City of Prague Philharmonic Orchestra

Only The Beginning Of The Adventure (From "The Chronicles Of Narnia: The Lion, The Witch And The Wardrobe")

The City of Prague Philharmonic Orchestra

Theme And Chase (From "Wallace And Gromit")

The City of Prague Philharmonic Orchestra

Suite (From "Brokeback Mountain")

The City of Prague Philharmonic Orchestra

Chevaliers de Sangreal (From "The Da Vinci Code")

The City of Prague Philharmonic Orchestra
100 Songs, 6 Hours 8 Minutes
Released:

Jul 17, 2007

℗ 2007 Silva America
Ratings and Reviews
Great Album
I personally enjoy this orchestra highly. I have purchased several songs from them and in all cases I have been pleased with my purchase.
Quantity but not quality
If you're looking for the "Folex" collection of film music, then this is it. These tracks are very poorly produced, and pale in comparison to the original recordings. Most of these tracks sound pingy and harsh, and don't have the fullness and clarity of sound like the originals. If you simply want a reference list of important film music, then, by all means, buy this. But if you want quality, I suggest you look elsewhere.
100 Greatest Film Themes
In order to make a movie any good, it has to have a great soundtrack. Here are those great soundtracks!