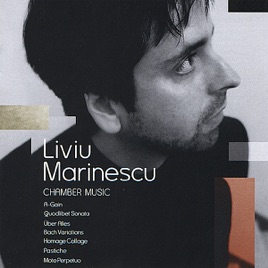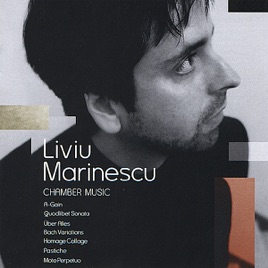 | | TITLE | | TIME |
| --- | --- | --- | --- |
| | A-Gain (with Northridge New Music Ensemble) | | |
| | Quodlibet Sonata: I (with Ovidiu Marinescu) | | |
| | Quodlibet Sonata: II-III; (with Ovidiu Marinescu) | | |
| | Quodlibet Sonata: IV (with Ovidiu Marinescu) | | |
| | Über Alles (with the Northridge New Music Ensemble) | | |
| | Bach Variations (with Russell Peterson) | | |
| | Homage Collage: I (with Julia Heinen & Shari Raynor) | | |
| | Homage Collage: II (with Julia Heinen & Shari Raynor) | | |
| | Homage Collage: III (with Julia Heinen & Shari Raynor) | | |
| | Homage Collage: IV (with Julia Heinen & Shari Raynor) | | |
| | Pastiche (with Steven Thachuk) | | |
| | Moto Perpetuo (with Northridge New Music Ensemble) | | |
12 Songs, 1 Hour 3 Minutes
Released:

Jan 1, 2008

℗ 2008 Liviu Marinescu/Capstone Records
Ratings and Reviews
Visionary composer with outstanding performances
Marinescu's music has that extra quality which raises it above the level of new music. It's depth and structure allowed me to become involved on an emotional and rational level. As most modern music uses a language which is not easy to understand, I was shocked and pleased that I was able to have this music communicate to me so profoundly. I was also happy to hear Steve Thachuk's (guitar) contribution. He is a considerable artist and this piece is a tour de force for the instrument.
Well done!!
Not to be missed
I bought this CD after hearing one of Marinescu's works for chamber orchestra
in LA. His music comes out of the great Central European post-war avant-
garde, and at the same time incorporates ideas and sounds that paint a free
spirited world, where quotations from 19th century works and 21st century
technology are allowed to coexist. Some of these recordings are amazing, with
top notch players like his brother, Ovidiu, and the saxophonist Russell Peterson.   
If you want to hear some good post-Ligeti music, this would be an excellent
CD.