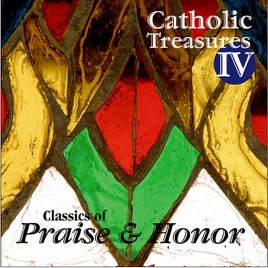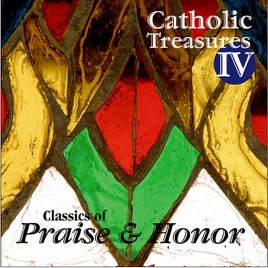 Catholic Treasures IV: Classics of Praise and Honor
WLP Choir
| | TITLE | | TIME |
| --- | --- | --- | --- |
| | | | |
| | Bring Flowers of the Fairest: | | |
| | Hail, Holy Queen Enthroned Above: | | |
| | | | |
| | On This Day, O Beautiful Mother: | | |
| | | | |
| | Holy God, We Praise Thy Name: | | |
| | | | |
| | Joyful, Joyful, We Adore Thee: | | |
| | Now Thank We All Our God: | | |
| | Praise God In His Holy Dwelling: | | |
| | | | |
| | Sent Forth By God's Blessing: | | |
| | Sing Praise to Our Creator: | | |
| | America (My Country 'Tis of Thee): | | |
| | | | |
| | Mine Eyes Have Seen the Glory: | | |
| | The Star-Spangled Banner: | | |
18 Songs, 50 Minutes
Released:

Mar 20, 2008

℗ 2008 World Library Publications
Ratings and Reviews
Almost Perfect
I've looked around a long time for a collection of classic Catholic songs to be able to listen to whenever I want. Usually all you can find are "contemporary" or jazzed up versions which often wreck the whole spirit of the song. These songs fit the bill because they are beautifully performed and arranged without being over-produced. The lyrics are traditional and mostly true to the originals. The only reason I gave it 4 stars instead of 5 is that on some of the songs, political correctness has crept in. For example, substituting "God" for "Him" and "us" for "men". Other than that, I highly recommend these renditions.
Beautiful, Heavenly!
this is sooo beautiful, it takes you to another world!!!! i lovvvvvvvvvvvvvvvvveeeeeeeeeeeeeee it!!!!!!!
I def. plan on buying this album!!!!!!!!!!
I LOVE ave maria, Hail Holy Queen Enthroned Above, Immaculate Mary, All the Earth, Holy Holy Holy, Sent Forth By God's Blessing, America the Beautiful, and Mine Eyes Have Seen the Glory!!!! Amazing!!