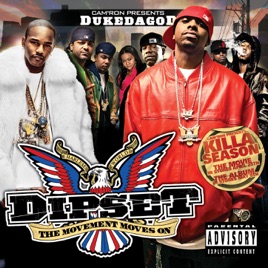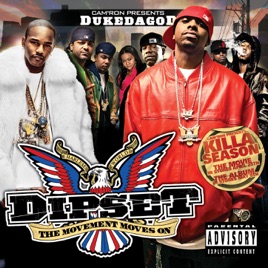 Cam'ron Presents Dukedagod Dipset the Movement Moves On
The Diplomats
TITLE
TIME

Ya'll Can't Live His Life

Cam'ron

JR Writer Featuring Cam'ron and Hell Rell

Cam'ron Featuring Hell Rell

Hell Rell Featuring Cam'ron

Cam'ron Featuring Hell Rell

J.R. Writer Featuring 40 Cal.

Jim Jones Featuring Max B and 40 Cal.

40 Cal. Featuring J.R. Writer

Funkmaster Flex Hot97 Freestyle

Cam'ron, JR Writer and Hell Rell
17 Songs, 1 Hour 16 Minutes
Released:

Apr 11, 2006

℗ 2006 Diplomatic Man, Inc. Manufactured and Distributed by Asylum Records.
Ratings and Reviews
cam'ron presents duke the god /the movement moves on
As always they bring the heat .What else would you expect from the dip? you know a group is hot when you cop they albums with out even previewing. Don,t forget pick up that hell rell ,FOR THE HELL OF IT and that jr writer , I FORGOT THE NAME BUT ITS GONNA BE HOT ANYWAY SO GO GET IT. dipset all day.
Huh?
This CD is Garbage! the only songs worth listening to are tracks 1-17. Oh 5h*t all the song are tight. F*ck it buy the whole CD vit's worth it. DIP-DIP SET-SET
Not Feelin Dipset
I Knew "Purple Haze" was sorry, BUT THIS IS TERRIBLE. Cam'ron needs to stop dissin' Jay-Z and look at his rap career (WHICH ISN'T GOING ANYWHERE). This isn't really a album, it's a mixtape with a barcode.