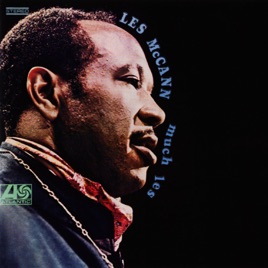 EDITORS' NOTES
Though it was precipitated by the massive success of its predecessor, Swiss Movement, Much Les is the real breakthrough record of McCann's career. It was the beginning of his studio collaboration with producer Joel Dorn, who would become framer, benefactor, and enthusiastic friend to McCann's music for the rest of his life. McCann had always possessed an exceptional ear and musical panache, but Dorn updated the pianist's sound for the '70s, making it deeper, darker, and juicier. Much of the album's dark velvet atmosphere can be credited to the rhythm section of bassist Leroy Vinnegar and drummer Donald Dean, augmented here by string arrangements courtesy of William S. Fischer. Though the album contains several slabs of the boogaloo-inflected funk upon which McCann had built his reputation —"Doin' That Thing," "Burnin' Coal" and "Love for Sal" are all amazing — the centerpiece is undoubtedly "Benjamin," a score for an opium-den funeral. The introductory figure is so dank and ominous that Mobb Deep looped it in 1995 as the basis for their crime rap anthem "Right Back At You."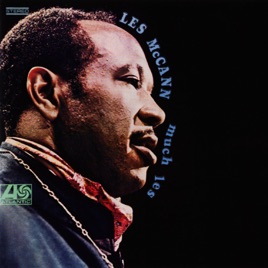 EDITORS' NOTES
Though it was precipitated by the massive success of its predecessor, Swiss Movement, Much Les is the real breakthrough record of McCann's career. It was the beginning of his studio collaboration with producer Joel Dorn, who would become framer, benefactor, and enthusiastic friend to McCann's music for the rest of his life. McCann had always possessed an exceptional ear and musical panache, but Dorn updated the pianist's sound for the '70s, making it deeper, darker, and juicier. Much of the album's dark velvet atmosphere can be credited to the rhythm section of bassist Leroy Vinnegar and drummer Donald Dean, augmented here by string arrangements courtesy of William S. Fischer. Though the album contains several slabs of the boogaloo-inflected funk upon which McCann had built his reputation —"Doin' That Thing," "Burnin' Coal" and "Love for Sal" are all amazing — the centerpiece is undoubtedly "Benjamin," a score for an opium-den funeral. The introductory figure is so dank and ominous that Mobb Deep looped it in 1995 as the basis for their crime rap anthem "Right Back At You."
5 Songs, 36 Minutes
Released:

Jun 1, 1969

℗ 2005 Atlantic Recording Corp. Manufactured & Marketed by Warner Strategic Marketing.
Ratings and Reviews
Much Les
Love to buy it but a song is missing - "With These Hands". Fix it. I'll buy it.
Missing song
Would love to buy this album but it is not complete. The review even mentions the missing song "With These Hands", McCann's only vocal track. Help iTunes, good price but we want complete albums.
What a great vibe this album has.
To summarize this album in one word -" Groovy". It's the perfect cigar and whiskey album for your night out.