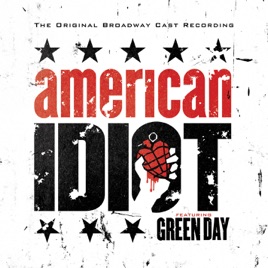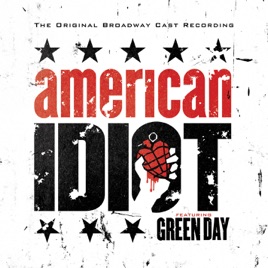 American Idiot (The Original Broadway Cast Recording)
Green Day
| | TITLE | | TIME |
| --- | --- | --- | --- |
| | American Idiot (feat. John Gallagher Jr., Michael Esper, Stark Sands, Mary Faber & Company) | | |
| | Jesus of Suburbia: I. Jesus of Suburbia / II. City of the Damned / III. I Don't Care / IV. Dearly Beloved / V. Tales of Another Broken Home (feat. John Gallagher Jr., Michael Esper, Stark Sands, Mary Faber & Company) | | |
| | Holiday (feat. John Gallagher Jr., Stark Sands, Theo Stockman & Company) | | |
| | Boulevard of Broken Dreams (feat. John Gallagher Jr., Rebecca Naomi Jones, Stark Sands & Company) | | |
| | Favorite Son (feat. Joshua Henry, Mary Faber, Leslie McDonel, Christina Sajous, Alysha Umphress, Libby Winters & Company) | | |
| | Are We the Waiting (feat. Stark Sands, Joshua Henry & Company) | | |
| | St. Jimmy (feat. John Gallagher Jr., Miguel Cervantes, Declan Bennett, Theo Stockman, Tony Vincent & Company) | | |
| | Give Me Novacaine (feat. Michael Esper, Stark Sands & Company) | | |
| | Last of the American Girls / She's a Rebel (feat. John Gallagher Jr., Gerard Canonico, Chase Peacock, Rebecca Naomi Jones, Tony Vincent & Company) | | |
| | Last Night On Earth (feat. Tony Vincent, Rebecca Naomi Jones, Mary Faber & Company) | | |
| | Too Much Too Soon (feat. Theo Stockman, Michael Esper, Mary Faber & Alysha Umphress) | | |
| | Before the Lobotomy (feat. Stark Sands, Chase Peacock, Joshua Henry & Ben Thompson) | | |
| | Extraordinary Girl (feat. Christina Sajous, Stark Sands & Company) | | |
| | Before the Lobotomy (Reprise) [feat. Stark Sands, Chase Peacock, Joshua Henry, Ben Thompson & Company] | | |
| | When It's Time (feat. John Gallagher Jr.) | | |
| | Know Your Enemy (feat. Tony Vincent, Michael Esper, John Gallagher Jr. & Company) | | |
| | 21 Guns (feat. Rebecca Naomi Jones, Christina Sajous, Mary Faber, Stark Sands, John Gallagher Jr., Michael Esper & Company) | | |
| | Letterbomb (feat. Rebecca Naomi Jones, Mary Faber, Leslie McDonel, Christina Sajous, Alysha Umphress & Libby Winters) | | |
| | Wake Me Up When September Ends (feat. John Gallagher Jr., Michael Esper, Stark Sands & Company) | | |
| | Homecoming: I. The Death of St. Jimmy / II. East 12th St. / III. Nobody Likes You / IV. Rock and Roll Girlfriend / V. We're Coming Home Again (feat. Green Day & the Cast of "American Idiot") | | |
| | Whatsername (feat. John Gallagher Jr. & Company) | | |
| | | | |
22 Songs, 1 Hour 22 Minutes
Released:

Apr 13, 2010

℗ 2010 Reprise Records for the U.S. and WEA International Inc. for the world outside the U.S.
Ratings and Reviews
You don't need to be a Green Day fan...
I saw this show on Broadway a couple of weeks ago, and it is unbelievable. I was not a big fan of Green Day before I went, and had fairly low expectations, but I was blown away! I think that these versions of the classic Green Day songs are significantly better than the originals. If you are at all interested, trust me and buy these songs! My favorites would have to be Are We the Waiting, 21 Guns and Extraordinary Girl, but they're all fantastic.
Stoked!
I love this musical! I saw it when it opened up in Berkeley and I wanted to buy the soundtrack. Sadly they didn't have the cast version of the album. So happy they finally released one! A MUST SEE SHOW AND A MUST BUY ALBUM!
Amazing!
This is absolutely incredible! I have been a fan of many of the cast members from other shows and love Green DAy and was very excited to hear about this show. The vocal arrangements are astounding! I highly recommend everyone get this album, whether you like musicals or now it is worth every penny!!!