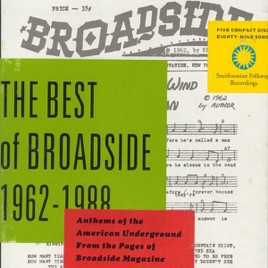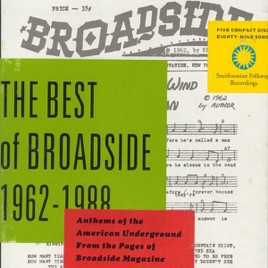 The Best of Broadside (1962-1988)
The Best of Broadside (1962-1988)
4.4, 10 Ratings

Partial Album
TITLE
TIME

The Broadside Singers with Phil Ochs

The Broadside Singers with Tom Paxton

Hiroshima, Nagasaki Russian Roulette

Jim Page

What Have They Done to the Rain?

Malvina Reynolds

The Broadside Singers with Tom Paxton

As Long As the Grass Shall Grow

Peter La Farge

Eric Andersen and Phil Ochs

What Did You Learn In School Today?

Tom Paxton

The Broadside Singers with Phil Ochs

Welcome, Welcome Emigranté

The Broadside Singers with Buffy Sainte-Marie

Lord, Hold Back the Waters

Will McLean

A Very Close Friend of Mine

Richard Black

Len Chandler with The Broadside Singers

I'm Going to Get My Baby Out of Jail

Len Chandler & Bernice Johnson Reagon

The Ballad of Martin Luther King

Mike Millius

The Broadside Singers with Len Chandler

Danny Valdez and Augustin Lira

Danny & Judy Rose-Redwood

Mrs. Clara Sullivan's Letter

Pete Seeger

If It Wasn't for the Union

Matt McGinn

My Oklahoma Home (It Blowed Away)

Sis Cunningham

Deborah Silverstein & The New Harmony Sisterhood Band

My Father's Mansion's Many Rooms

Pete Seeger

Hell No, I Ain't Gonna Go

Matt Jones & Elaine Laron

Waist Deep In the Big Muddy

Pete Seeger

Not Enough to Live On But a Little too Much to Die

Mike Millius

Ewan MacColl & Peggy Seeger

The Aberfan Coal Tip Tragedy

Thom Parrott

The Ballad of Earl Durand

Charlie Brown

Ernie Marrs and the Marrs Family

Rev F.D. Kirkpatrick & Jimmy Collier

Rev F.D. Kirkpatrick & Jimmy Collier

You're Just a Laughing Fool

Rev. F.D. Kirkpatrick and Jimmy Collier

Bev Grant and the Human Condition
89 Songs, 4 Hours 52 Minutes
Released:

Sep 12, 2000

℗ 2001 Smithsonian Folkways Recordings
Ratings and Reviews
Ralph and Martha Wright
,
In the cornfield
There's a lot of earnest corn to be shucked here. Times have changed. But Phil Ochs, Sammy Walker and some of the others shine through with some tough love and strong medicine.
Hard Rain's A-Gonna Fall
Pete Seeger sang for justice long before Bob Dylan, and when Dylan went on to other interests, Seeger stayed the course. The righteous anger shines through in this live concert performance from 1963. Dylan's fierce imagery finds its truest voice.