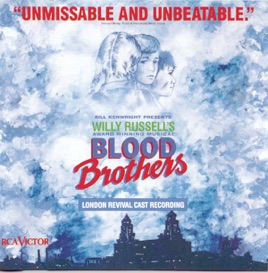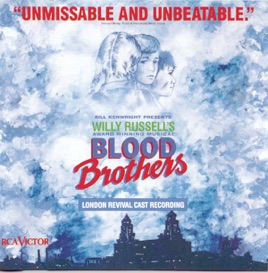 TITLE
TIME

Kiki Dee & Blood Brothers Ensemble (London) (1988)

Kiki Dee, Warwick Evans & Blood Brothers Ensemble (London) (1988)

Terry Melia, Annette Ekblom, Con O'Neill & Blood Brothers Ensemble (London) (1988)

Shoes Upon the Table (Reprise)

Warwick Evans

Long Sunday Afternoon / My Friend

Con O'Neill & Robert Locke

Kiki Dee & Blood Brothers Ensemble (London) (1988)

Kiki Dee & Blood Brothers Ensemble (London) (1988)

Con O'Neill, Robert Locke & Blood Brothers Ensemble (London) (1988)

Robert Locke & Blood Brothers Ensemble (London) (1988)

Jeffrey Gear, Dee Robillard & Blood Brothers Ensemble (London) (1988)

Warwick Evans, Con O'Neill & Terry Melia

Kiki Dee, Con O'Neill & Annette Ekblom

Kiki Dee, Warwick Evans & Blood Brothers Ensemble (London) (1988)

Kiki Dee & Blood Brothers Ensemble (London) (1988)
18 Songs, 58 Minutes
Released:

May 11, 1993

℗ 1993 BMG Music
Ratings and Reviews
wonderful
i grew up listening to this soundtrack because it was one of my father's favorites. i never thought i'd get a chance to see blood brothers since it's really only playing in london, however i was fortunate enough to see the show while studying abroad this year. almost every song brings a tear to my eye, and as i sing along to "tell me it's not true", i'm almost unable to stop the tears by the end of it. the show is incredibly moving and the album is one i will cherish forever.
19 Recordings And 20+ Years On The Boards
Blood Brothers is an international hit that has spawned 19 different cast albums (in nearly as many languages) and run for twenty years in London's West End. It seldom pleases the critics, but it always pleases the audience. The story of twins separated at birth, one to live in poverty with his mother and the other adopted by a rich family, is heartbreaking. The score is appropriately folksy, with a couple of stand-out songs (Tell Me It's Not True, Easy Terms). iTunes only carries this version (for now), but it's the one I'd recommend for your first listen to the show. The cast is great, and there is enough dialogue included to make is possible to follow the storyline.
Blood Brothers
My High School just did this play and I have loved it every since, i went their expecting it to be boring and wound going to it every performance after that. By far the best musical production I have ever seen. Im normally not to fond of musicals but this an awesome one. The plot and storyline is very deep and actually means a lot and is very interesting. The songs are really their just to aid the plot and the songs greatly help explain and adhance the plot with great dialogue. I can not get over this play, I have already listened to the soundtrack 5 times through in one day. I would recommend this everyone, its funny, dramatic, and a little bit of everything