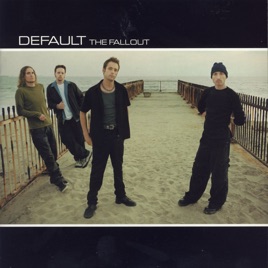 | | TITLE | | TIME |
| --- | --- | --- | --- |
| | | | |
| | | | |
| | | | |
| | | | |
| | | | |
| | | | |
| | | | |
| | | | |
| | | | |
| | | | |
| | | | |
| | | | |
| | | | |
| | Wasting My Time [Acoustic] | | |
14 Songs, 48 Minutes
Released:

Oct 2, 2001

℗ 2002 The Orchard
Ratings and Reviews
A Highly Underrated Band
Although Default may sound like many other major rock acts today (Creed, Nickelback, etc) they are overlooked as a very talented band who deserves to be right up there with the big rockers. Their most popular song, Wasting My Time, has been my favorite song since I first heard it. If you like Creed, Nickelback, 3 Doors Down, and other similar artists, try Default. There's a good chance you'll fall in love.
Awesome Band!!!
Default is an awesome band. I agree with the other reviews that they are definitely underrated. Great band with a great sound.
the fallout is the best cd ever
This album is still one of my all time favorites. I can still put this CD in a rock out to it like its a brand new CD. every song on this cd is great. no matter how long its been this will be one of my top 5 cds ever... so what if they are like Nickleback... hell i love nickleback and have everyone of their CDs to. but for some reason i alway go back to this cd... i sure wish Dafault would make another CD like this one. i know its hard and well maybe this is the best and if it is that's great because it's awsome and i have a small piece of that awsomeness... :) thanks Default....even after 7 years this CD rocks.