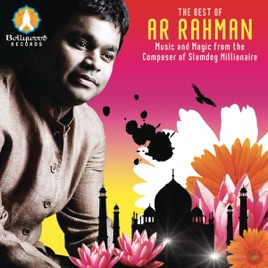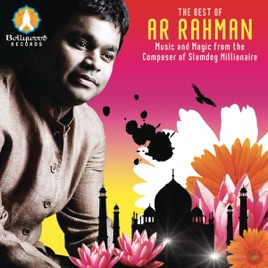 The Best of A. R. Rahman - Music and Magic from the Composer of Slumdog Millionaire
A. R. Rahman
4.6, 30 Ratings

Partial Album
TITLE
TIME

Rang de Basanti (From "Rang De Basanti")

A. R. Rahman, Daler Mehndi & Chitra

Khoon Chala (From "Rang De Basanti")

A. R. Rahman & Mohit Chauhan

A. R. Rahman, Shreya Ghoshal & Uday Majumdar

A. R. Rahman, Chinmayi Sripaada, Murtuza Khan & Qadir Khan

A. R. Rahman, Mariam Toller, Chinmayi Sripaada & Kirti Sagathia

Ghanan Ghanan (From "Lagaan")

A. R. Rahman, Alka Yagnik, Udit Narayan, Sukhwinder Singh, Shankar Mahadevan, Shaan & Sehar

Radha Kaise Na Jale (From "Lagaan")

A. R. Rahman, Asha Bhosle, Udit Narayan & Vaishali Samant

Dheeme Dheeme (From "Zubeidaa")

A. R. Rahman & Kavita Krishnamurthy

So Gaye Hain (From "Zubeidaa")

A. R. Rahman & Lata Mangeshkar

Gurus of Peace (From "Vande Mataram")

A. R. Rahman & Nusrat Fateh Ali Khan

Yeh Rishta (From "Meenaxi")

A. R. Rahman & Reena Bhardwaj

Ae Nazneen Suno Na (From "Dil Hi Dil Mein")

A. R. Rahman & Abhijeet

Warriors In Peace (From "Between Heaven and Earth") [Hindi Version]

A. R. Rahman, Matt Dunkley & Sadhana Sargam
14 Songs, 1 Hour 9 Minutes
Released:

Feb 19, 2009

℗ 2009 2009 Sony Music Entertainment India Pvt. Ltd.
Ratings and Reviews
HelloMyNameIsStaticShock
,
The first, third, fourth, and fifth track are to die for
Rang De Basanti
Barso Re
Tere Bina
Mayya
All good
dec
The first four songs are really good ones that I know well and already have (see the video for Barso Re!), the next ones are older ones that are still beautiful even now. I don't know if the album is an investment piece, but feel free to of course pick and choose.
Probably the Best Album ive heard in a while.
It has some traditional aspects as well as a lot of modern components. It makes for a great sound. Love it.