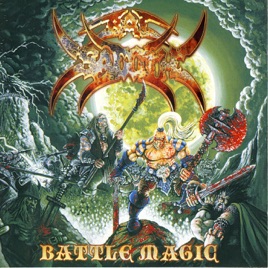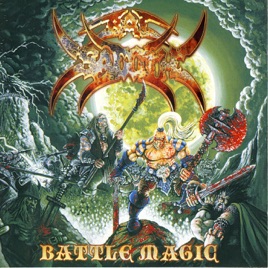 | | TITLE | | TIME |
| --- | --- | --- | --- |
| | | | |
| | | | |
| | | | |
| | Return To The Praesidium Of Ys | | |
| | | | |
| | | | |
| | When Rides the Scion of Storms | | |
| | Blood Slakes the Sand At Circus Maximus | | |
| | Thwarted By the Dark (Blade of the Vampire Hunter) | | |
| | | | |
10 Songs, 49 Minutes
Released:

Nov 2, 1998

℗ 1998, Cacophonous
Ratings and Reviews
Absolutely epic and original metal album!!
Deserves 5 stars all the way (not 4 you whimp)... This is purely a metal masterpiece, one of their best albums... Bal Sagoth rules!!!
Amazing Barbarian Metal from a legendary band
If you don't know about Bal-Sagoth, you are missing out. Picture heavy (blackened) metal with a barbarian twist. Picture epic battles and glorious cities. Picture arcane wizardry and ancient artifacts. All this and more is included within the stories of Bal-Sagoth's albums.

Battle Magic is their Third album, a middle step between the death metal roots of the band and the newer, overproduced and almost pop-metal albums. Battle Magic will get you going a few times throughout, and it has GREAT songs like "Return to the Praesidium of Ys" and "A Tale From the Deep Woods". Perhaps my favorite on the album is "When Rides the Scion of the Storms", an epic song about a sailor doomed to live forever and relive countless battles.

As you can see, there is a strong heroic vein in this music, which I just can't get enough of. I only have one complaint: Bal-Sagoth uses epic song titles that must not be modified, but I see from the iTunes store that someone at Apple didn't know this. Please, correct your track titles Apple! Here is the proper naming of these tracks, taken from the back of the CD:

1. Battle Magic
2. Naked Steel (The Warrior's Saga)
3. A Tale From the Deep Woods
4. Return to the Praesidium of Ys
5. Crystal Shards
6. The Dark Liege of Chaos is Unleashed at the Ensorcelled Shrine of A'Zura Kai (The Splendour of a Thousand Swords Gleaming Beneath the Blazon of the Hyperborean Empire Part II)
7. When Rides the Scion of the Storms
8. Blood Slakes the Sand at the Circus Maximus
9. Thwarted by the Dark (Blade of the Vampyre Hunter)
10. And Atlantis Falls...

For some reason, I view the tracktitles to be as important as the lyrics, so it's a major faux pass to me that Itunes messed em up. Aside from that minor mishap, This album is a winner all the way. I recommend The Chthonic Chronicles as a good follow-up.
Video game soundtrack?
Mr. Bungle of black metal.