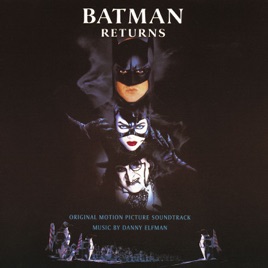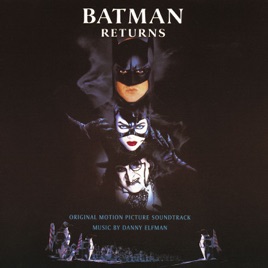 Batman Returns (Original Motion Picture Soundtrack)
Danny Elfman
TITLE
TIME

Birth of a Penguin, Pt. 1

Danny Elfman, Batman Returns & Batman

Birth of a Penguin, Pt. 2

Batman, Batman Returns & Danny Elfman

Danny Elfman, Batman Returns & Batman

Batman, Batman Returns & Danny Elfman

Batman, Danny Elfman & Batman Returns

Batman, Danny Elfman & Batman Returns

Batman, Batman Returns & Danny Elfman

Batman, Batman Returns & Danny Elfman

Danny Elfman, Batman & Batman Returns

The Rise and Fall from Grace, Pt. 1

Batman, Batman Returns & Danny Elfman

The Rise and Fall from Grace, Pt. 2

Batman, Danny Elfman & Batman Returns

Danny Elfman, Batman Returns & Batman

Rooftops / Wild Ride, Pt. 1

Batman, Danny Elfman & Batman Returns

Rooftops / Wild Ride, Pt. 2

Danny Elfman, Batman Returns & Batman

Danny Elfman, Batman & Batman Returns

The Final Confrontation, Pt. 1

Batman, Batman Returns & Danny Elfman

The Final Confrontation, Pt. 2

Batman, Batman Returns & Danny Elfman

Danny Elfman, Batman Returns & Batman

Batman, Batman Returns & Danny Elfman

Batman, Batman Returns & Danny Elfman
21 Songs, 1 Hour 9 Minutes
Released:

Jun 19, 1992

℗ 1992 Warner Records Inc.
Ratings and Reviews
A dark trip
This album is often glossed over when looking at Elfman's work. It's tragic, melancholy and sometimes macabre, as opposed to the heroic score of the previous film. By the time the familiar Batman theme starts up at the end--the second and last time you get to hear it fully played out--you feel drained and relieved. It's great when you're in the mood for a dark and twisted score.
Felipe Augusto C. Ferreira
,
Danny Elfman again proves himself
Not as good as the first soundtrack but still great, my personal favorite is selina transforms
a classic soundtrack to a classic movie
batman returns was a awesome movie a classic the best of the best and so is this soundtrack buy it you wont be sorry