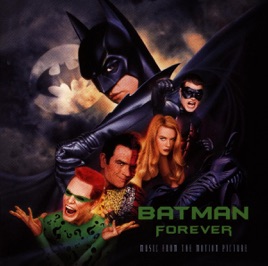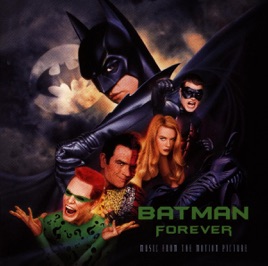 Batman Forever (Music from the Motion Picture)
Various Artists
TITLE
TIME

Hold Me Thrill Me Kiss Me

U2 & Bono

The Hunter Gets Captured By the Game (With Tracey Thorn)

Tracey Thorn & Massive Attack

Nobody Lives Without Love

Eddi Reader
14 Songs, 59 Minutes
Released:

May 16, 1995

℗ 1995 Atlantic Recording Corporation for the United States and WEA International Inc. for the world outside of the United States.
Ratings and Reviews
This is seriously one of the greatest soundtracks of all-time
I don't usually write reviews but when I saw this soundtrack was added I just had to. I got this soundtrack when it came out and I was 11 at the time. I still listen to it to this day. I can't seriously name another soundtrack that has so many great tracks.
U2- Hold Me, Thrill Me, Kiss Me, Kill Me - 5 stars, the opening track on this album is absolutely awesome and one of my all-time favorite U2 songs
PJ Harvey - One Time Too Many - 3 starts, Not that bad of a song, it has a very hard edge to it
Brandy - Where Are You Now? - 4 stars, a very good r&b song
Seal - Kiss From A Rose - 5 stars, If you remember this song back from 1995 this album and the music video is what made is so popular. Very good song
Massive Attack (featuring Tracey Thorn) - The Hunter Gets Captured By the Game- 5 stars, This is one of my favorite tracks on the album, its a cover of a very old song and this new version is great.
Eddi Reader- Nobody Lives Without Love - 5 stars, This is a very sad and powerful song. Another one of my favorites from the album
Mazzy Star - Tell Me Now- 2 stars, This is probably my least favorite song on the album, it actually can make me sleepy while listening to it. I guess its impossible for a soundtrack to be completely flawless.
The Offspring - Smash It Up- 5 stars, The Offspring has always been great and this song is just another example of why they are.
Nick Cave - There Is a Light - 5 stars, This song is great, it took awhile for it to grow on me but once it did I really liked it
Method Man - The Riddler - 3 stars, I'm not really into rap, and never have been. But its okay I guess.
Michael Hutchence - The Passenger - 5 stars, I LOVE this song. I usually listen to it late at night when I go out for a cruise in my Batmobile
The Devilins - Crossing the River - 5 stars, I liked this song the first time I heard it and nothing has changed
Sunny Day Real Estate - 8 - 3 stars, this song is alright
The Flaming Lips - Bad Days -5 stars, If you are having a bad day just listen to this song and it will help cheer you up
still great!
It's funny to think about now, but this was one of the first cd's I ever owned. I'm currently 23, so it's been quite a while since this album came out, but I still own it and still love it for some reason. And for the record Batman is the best superhero of all-time. Don't even try to dispute it.
I REQUESTED THIS SOUNDTRACK A YEAR AGO!!!!
I have been looking for this soundtrack on here for forever and requested it last year and here it is!!! I LOVE the METHOD MAN's The Riddler song and was the main reason I wanted this soundtrack!! There are a couple songs that I am not extremely excited about but 95% of this soundtrack is GREAT!!!! Well worth the price!!! Great mix of artists and beats!!! Brings back memories for me & you don't have to like the movie to like the music so check it out!!!