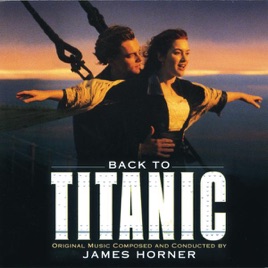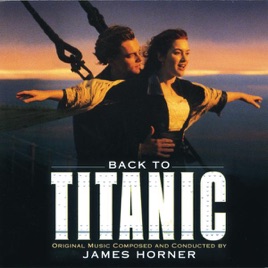 Back to Titanic (More Music from the Motion Picture)
James Horner
TITLE
TIME

Titanic Suite (Instrumental)

An Irish Party In Third Class (Includes "John Ryan's Polka" and "Blarney Pilgrim") [Instrumental]

Gaelic Storm

Alexander's Ragtime Band (Instrumental)

I Salonisti

The Portrait (Instrumental)

Jack Dawson's Luck (Includes "Humours of Caledon", "The Red-Haired Lass", "The Boys On the Hilltop" & "The Bucks of Oranmore") [Instrumental]

A Building Panic (Instrumental)

Nearer My God to Thee (Instrumental)

I Salonisti

Come Josephine, In My Flying Machine

Máire Brennan

Lament (includes "A Spailpín a Rún") [Instrumental]

A Shore Never Reached (Instrumental)

My Heart Will Go On (Dialogue Mix)

Céline Dion

Nearer My God to Thee (Instrumental)

Eileen Ivers

The Deep and Timeless Sea (Epilogue)
13 Songs, 1 Hour 18 Minutes
Released:

Aug 28, 1998

℗ 1998 SONY BMG MUSIC ENTERTAINMENT/ 1998 Sony Music Entertainment (Canada) Inc.
Ratings and Reviews
Back to Titanic, literally
when i first saw this movie, i balled my eyes out. half an hour later, i was still crying. since i TIVOed the movie, i watched it everyday for almost a week, and finally erased it. (which still surprises me, i can't believe i would erase it.) if i still had it on DVR, i would probably still be watching it. many times during the 2+ weeks (its still going) i just think about the movie and start to cry. i swear, its the saddest movie EVER. but one of the saddest (and happiest/most exciting) parts of the movie is the music. without it, the movie wouldn't have been as packed with emotion. Listening to the songs, i can still cry. i know it sounds like i just cry constantly and have some emotional problems, haha, i really don't this is just such an emotional movie/soundtrack. i absolutely love it. im kinda broke right now, so i can't buy the cd but i've been listening to the clips like everyday, which is kinda sad but true. anyways, i definetly think you should all watch the movie Titanic, buy this soundtrack, and also buy the original soundtrack, also by James Horner. They are both absolutely amazing and really bring you back to the movie, so much that you can picture the scenes in your head. I LOVE THE TITANIC.
Back To The Abyss
this soundtrack is absolutely wonderful it really takes you back to the film, it really is great!!
LOVE IT!
I love this movie, and the music doesn't disappoint. All the songs remind me of the movie and the overall mood associated with each scene, especially "Nearer My God To Thee". This soundtrack is just as fantastic as the original one!!!