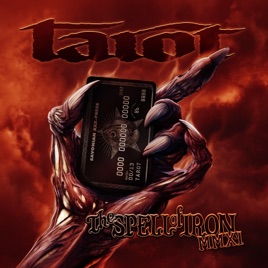 | | TITLE | | TIME |
| --- | --- | --- | --- |
| | | | |
| | | | |
| | | | |
| | Love´s Not Made For My Kind | | |
| | | | |
| | | | |
| | | | |
| | | | |
| | | | |
| | Things That Crawl At Night | | |
10 Songs, 41 Minutes
Released:

Apr 6, 2011

℗ King Foo Records
Ratings and Reviews
WRONG RELEASE DATE- great album!
AWESOME update of an outstanding CD! I love this band. iTunes YOU ARE MISREPRESENTING THIS CD! IT WAS NOT RELEASED IN 1986! This is a re-recorded rearranged version of the 1986 release that does not disappoint. Finnish bands just have something special. 5*!
Very pleased
I've been waiting for this since it was announced months ago. It really pleases. They've rearranged, updated lyrics &rerecorded and make it heavy. It's really good.
Older timer fans might have a fit but it's their stuff, they can do what they want. It's a another masterpiece by Tarot, the best Finnish metal in the world.

best tunes, imo: wings of darkness, Things That Crawl at Night - these are very strong, but all of them are great.
Recommended for all Tarot and Finnish metal fans
I usually am not a big fan of re-recordings of good albums, but this actually works well. Most of the songs still have a lot of intensity to them in the newer versions and the newer elements from Tommi Salmela's vocals to Janne Tolsa's keyboard work gives the old songs the updated Tarot sound that many enjoy!

Recommended for anyone into old school metal with a more modern twist! Finnish metal forever! \m/