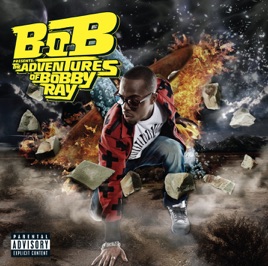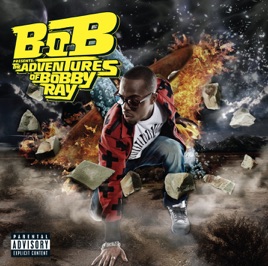 B.o.B Presents: The Adventures of Bobby Ray (Deluxe)
B.o.B
| | TITLE | | TIME |
| --- | --- | --- | --- |
| | | | |
| | Nothin' On You (feat. Bruno Mars) | | |
| | Past My Shades (feat. Lupe Fiasco) | | |
| | Airplanes (feat. Hayley Williams of Paramore) | | |
| | Bet I (feat. T.I. & Playboy Tre) | | |
| | | | |
| | The Kids (feat. Janelle Monáe) | | |
| | Magic (feat. Rivers Cuomo) | | |
| | | | |
| | | | |
| | 5th Dimension (feat. Ricco Barrino) | | |
| | Airplanes, Part II (feat Eminem & Hayley Williams of Paramore) | | |
| | Letters From Vietnam (Bonus Track) | | |
| | | | |
| 15 | B.o.B 101: Interview from the Adventures of Bobby Ray Album | | |
| 16 | Nothin' On You (feat. Bruno Mars) | | |
16 Songs, 1 Hour 29 Minutes
Released:

Apr 27, 2010

℗ 2010 Atlantic Recording Corporation for the United States and WEA International Inc. for the world outside of the United States
Ratings and Reviews
Wow
There are four rappers that I will buy their CD on the spot without any hesitation.
Kid Cudi
Lupe Fiasco
Kanye West
B.o.B.

They really give hope to meaningful rap! And they just take my mind away to outer space...

Best Debut Hip-Hop Album Since Kid Cudi. (Track by Track Review)
An Eminem collaboration for a debut artist? That alone should tell you how much potential B.o.B. aka Bobby Ray has as an artist. Add a fresh-out-of-jail T.I. and Lupe Fiasco to the Eminem collaboration and you have a star-studded set of features that pushes this album straight to the mainstream. Armed with not only the ability to rap,sing and produce, B.o.B. is a true artist in the fact he also plays some of the instruments featured on the album - a claim almost no rapper can make.

Anyway, let's go track by track.

1. Don't Let Me Fall - 4.5/5
-Deep, self-reflective, great hook and great verses. Not much more can be asked of a song.

2. Nothin' On You - 5/5
-The song that made B.o.B. famous. And there's a reason for it. Ladies love it and men love ladies.

3. Past My Shades (Feat. Lupe Fiasco) - 3.5/5
- Great verses are brought down by an annoying hook.

4. Airplanes (Feat. Hayley Williams) - 5/5
-Fantastic song. Blends pop, with punk, with hip-hop. This song is only out-done by part two.

5. Bet I (Feat. T.I. & Playboy Tre) - 2.5/5
- Such a disappointment.

6. Ghost in the Machine - 4/5
-These songs are what makes B.o.B. an interesting artist. Song isn't for everyone, but I love it.

7. The Kids - 3/5
- Interesting song, but I'm personally not a fan.

8. Magic - 3.5/5
- Another interesting collaboration. It works in some spots, but won't work in the clubs...which is where I think B.o.B. was aiming here.

9. Fame - 4/5
- Let's not beat around the bush here - the flow in this song sounds exactly like Ludacris. But it works.

10. Lovelier Than You - 4/5
- Makes me want crack open a Corona and watch the sunset. If you're expecting an all-rap album people, you don't know B.o.B. Good, not great.

11. 5th Dimension - 4.5/5
- This is my favorite of the songs that have no chance of having any mainstream impact. The hook insanely eclectic, almost synth-pop-ish, and just creates an overall fun song.

12. Airplanes (Part 2) (Feat. Eminem & Hayley Williams) - 5/5
- Let's get this out of the way first: I wholly disagree with the concept of this song being album only...you're only asking people to pirate the song in situations like that. However, this is the best hip-hop song of 2010 so far. It tells a story of what if's and dreams never accomplished and dreams on the verge of being accomplished. If you ever buy an album just for one song...this should be that song.

13. Letters from Vietnam (Bonus Track) - 4/5
- This song loses .5 points bases solely on track name. Bobby, Vietnam was forever ago. You were nowhere near born even. Come on. The whole naming tracks after wars is completely played out. Good song, though.

14. I See Ya - 1/5
- Why was this song put on the album? At least you're basically getting it for free.

Overall album rating - 4.5/5
B.o.B.
Great..... BUT THIS IS RIDICULOUS AIRPLANES PART 2 IS THE BEST SONG AND YOU HAVE TO BUY THE WHOLE ALBUM
Yes for airplanes part 2 being $1.29