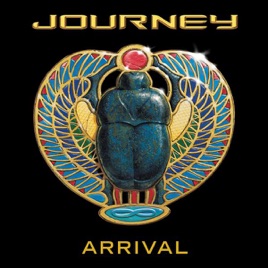 15 Songs, 1 Hour 13 Minutes
Released:

Dec 1, 2000

℗ 2000, 2001 SONY BMG MUSIC ENTERTAINMENT
Ratings and Reviews
Excellent album - a return to greatness for this band...
The best thing about this album, and there are a lot of good points, is the thing Journey was always known for, the songwriting. The album features superb engineering and production, but the songs are really terrific. At times, this album sounds more like "Departure" and "Escape" although the sound quality is much better than those albums. A couple of songs were obviously targeted for radio, but if you are a fan of this band or if you just like great pop rock bands, then Arrival is just the ticket. And yes, hard-core fans, Steve Augeri is a more than worthy replacement for Steve Perry in most respects. While his voice lacks some of the soul and depth of the prior Steves' voice, his talent is unmistakable and very akin in sound and delivery. At times it is very easy to forget there has been a change. The high point for this reviewer is the Augeri-penned track, "Kiss Me Softly." Listen and enjoy!
Arrival = Amazing
The first time I heard Arrival, I wasn't even aware that Steve Perry had left the band. I was amazed at how strong and fresh his voice was, and then as I browsed the notes and the photo, I was amazed to discover he had been REPLACED by a new lead singer. Say what you want about vocalist Steve Augieri and the newer incarnation of Journey, but on Arrival they really bring down the house. This album is as strong or stronger than Escape (arguably the band's strongest offering) and features big, slick production, and great artistry. I was amazed to discover later how much Neal Schon hated this album... too bad, because if they made more like it, they might have found a way back to the charts. Aside from Augieri's great voice, new drummer Deen Castronovo really makes an impact on this album as well. After you hear him bangin' the skins on "we will meet again," you will be a fan.

Unfortunately, this style of rock is all but dead with the newer generations, and those of us who love 70s/80s rock have to really dig to find it. If you are one of those people, you will really enjoy this album.

A last note, after being the longest-running lead singer in the band's history (not something everyone knows) Augieri has since departed the band, replacement Jeff Scott Soto was a complete waste of time wash, and the future for this group seems in doubt. Will Augieri return? Will Perry come back? The future is quite uncertain at this moment... they could be over. But regardless, "Arrival" is a great album (and a snapshot of one of Journey's many historical chapters) you will enjoy for years to come.
Blah
Journey without Steve Perry is like eating dry toast. It's nourishment, gives you what your body needs but why eat dry toast when you can have the jelly? Perry's flavor not only comes from his voice, but his songwriting as well.

All Journey fans HAVE to admit that these songs are NOT in the same class as the always fantastic writing trio of Schon/Cain/Perry. In fact, most of these songs sound too similar to each other to be special at all.

As a fan of Journey since 1978, let me tell you...it breaks my heart to have to write these words. I'm not going to love it just because it has Journey's name on it. I highly doubt that if Perry was still in the band that any of the versions of these songs would have made the album cut. He would have slathered the jelly on and kept it coming leaving the listener not only nourished but satisfied through and through.

Please pass the jelly.