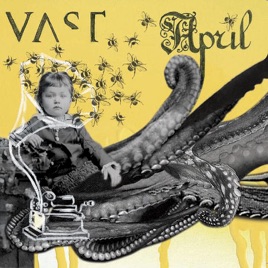 | | TITLE | | TIME |
| --- | --- | --- | --- |
| | | | |
| | Dedicate (A Place for Me) | | |
| | | | |
| | | | |
| | | | |
| | | | |
| | | | |
| | | | |
| | | | |
| | | | |
| | | | |
| | | | |
12 Songs, 40 Minutes
Released:

Oct 16, 2007

℗ 2007 2Blossoms Records
Ratings and Reviews
Vast - April
This album has helped me through a lot. The songwriting and sound of it is miles ahead of anything that Jon Crosby has done so far (- the Generica volumes). It is also the best that he has sounded on any of his albums so far, really showing off his beautiful voice. Most of the songs are heartbreaking. Without a doubt my favorite Vast album so far and a sign of a bright future. Not one throw away song on the album. Favorites are: You're Too Young, Tattoo of Your Name, Frog, She Visits Me, and Everything Passing By. If you liked his past albums then get this.
Major Disappointment but Still some very Strong Tracks
I've been a huge VAST fan since the Beach soundtrack when I first discovered the band and been to a bunch of their shows. So going on Jon Crosby's (lead singer) past body of work, April is a massive dissapointment. Crosby does mixing duties here, which he had only done on the track "lost" off of Nude (it's one of my favourite all time songs on a great album), so there was real promise. Unfortunately the songs suffer from two things: many sound the same (Crosby brilliantly incorporated diverse samples on his previous albums to avoid such a fate), and his songs lack catchy hooks.

Now it's important to note that the first 5 songs are very good. Particularly Dedicate, Everything passes by and Sunday I'll be gone, which stand right with some of Crosby's better work. Still, if you're not a diehard, I'd recommend just getting tracks 1-5, and 10 (also good). If you like the Doors you might like I am a vampire, and Tattoo of your name you'll swear is a song you've already heard 10,000 times.
Well...
What the guy before me said was some what right, but to an extent. This album is stupendous except that i was expecting more of a Visual Audio Sensory Theater or Music For People like style that made me fall in love with VAST so much. I appreciate Jon Crosby experimenting with other styles, but he should stick with his original niche of having looped banshee cries (touched), dense brain-twitching bass lines (Pretty when you cry), echoing drum beats (Turquoise), and uplifting libetarian guitar shredding (free). Jon, i am your number one fan and i will always find your music great, regardless of what form of music you choose to do, but i highly recommend you go back to that year 1998-2004 like style. Also, more orchestral pieces will please the audience as well. Overall, i stll find this a pretty good album, but not VAST's best.