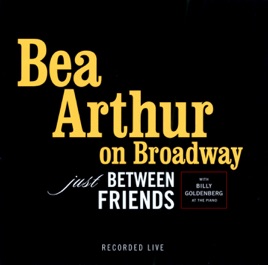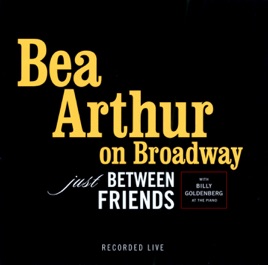 Bea Arthur On Broadway - Just Between Friends
Bea Arthur
| | TITLE | | TIME |
| --- | --- | --- | --- |
| | | | |
| | | | |
| | | | |
| | What Can You Get a Nudist for Her Birthday? | | |
| | | | |
| | | | |
| | | | |
| | Let's Face the Music and Dance | | |
| | | | |
| | | | |
| | Threepenny Opera / Pirate Jenny | | |
| | | | |
| | | | |
| | | | |
| | | | |
| | | | |
| | | | |
| | If I Can't Sell It, I'll Keep Sittin' On It! | | |
| | | | |
| | | | |
| | | | |
| | | | |
| | You're Gonna Hear from Me | | |
| | | | |
| | The Man In the Moon Is a Lady | | |
25 Songs, 1 Hour 7 Minutes
Released:

Feb 12, 2002

℗ 2002 DRG Records
Ratings and Reviews
Amazing
Bea Arthur's full potential was never tapped in to until now - and she's over 80 years old! Bea's unique and beautiful voice is in full force on every song, monologue and joke. The material is well selected - a show of standards that had been done to death would have been very easy. Instead, Arthur wisely dug through and found forgotten gems ranging in date from the 1920's all the way to the 1960s! The material is sung very well. The jokes are hillarious. Bea Arthur is truly a star. Buy this now!
A brilliant retrospective.
This is the "cast album" of Bea's one woman show by the same title, and what a fantastic album it is. One doesn't feel as if one is on Broadway, but a dinner guest in Bea Arthur's home. With wit and charm, Arthur guides us through her amazing career on stage, screen, and television with amusing anecdotes and song. Her brilliant wit and art of the pause are perfect for the one woman show format, and this is the perfect retrospective of an amazing career. Along with Elaine Stritch's "At Liberty" recording, this is a must have for lovers of a nobler age of live performance.
Bea Arthur is Magnificent!
Bea Arthur has always been one of my favorite actresses, but this Album is truly amazing. This is Bea Arthur at her peak and prime. She is a phenomenal singer and comedianne. She is an entertainer in every sense of the word.