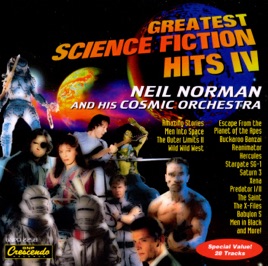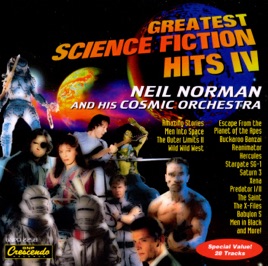 | | TITLE | | TIME |
| --- | --- | --- | --- |
| | | | |
| | | | |
| | | | |
| | Conquest of the Thaxton Nebula | | |
| | Escape from the Panet of the Apes | | |
| | | | |
| | The Lost World: Jurassic Park | | |
| | | | |
| | The Adventures of Buckaroo Banzai | | |
| | Hercules: The Legendary Journeys | | |
| | | | |
| | | | |
| | | | |
| | | | |
| | | | |
| | | | |
| | | | |
| | | | |
| | | | |
| | | | |
| | | | |
| | | | |
| | | | |
| | | | |
| | | | |
| | | | |
| | | | |
| | | | |
28 Songs, 1 Hour 16 Minutes
Released:

Sep 1, 1998

℗ 1998 GNP Crescendo
Ratings and Reviews
Gonzo over Airwolf
I cannot vouch for the rest of the album, but I really enjoy this version of the Airwolf theme (originally by Alan Silvestri). This is one of my most listened-to tracks over the years.
One nugget
The Buckaroo Banzai track is perfect. The others I checked out were pretty bad. So plunk down your 99c and rock out with that 80s cult classic starring Peter Weller (no, not Robocop, the other cult classic starring Peter Weller).
AWFUL cheesy renditions...
If you want something that sounds like a 1970's Electric Light Orchestra, but not quite as good...more like someone took a bunch of MIDI files and played them on a secondrate synth, this is your album. iTunes, please, PLEASE get some SF theme CDs from other than amateurs!