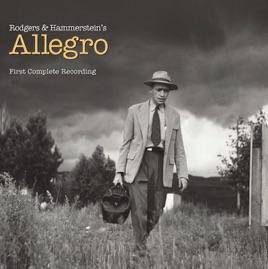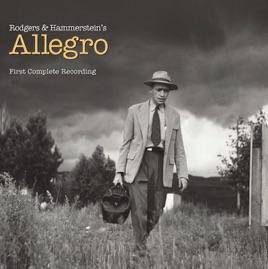 TITLE
TIME

Istropolis Philharmonic Orchestra

Opening (Joseph Taylor, Jr.)

Nathan Gunn & Audra McDonald

I Know It Can Happen Again

Marni Nixon

Dialogue - One Foot, Other Foot

Marni Nixon & Audra McDonald

Marni Nixon, Nathan Gunn & Audra McDonald

Nathan Gunn, Audra McDonald & Patrick Wilson

Istropolis Philharmonic Orchestra

Istropolis Philharmonic Orchestra

Laura Benanti, Norbert Leo Butz & Patrick Wilson

You Are Never Away (Encore)

Patrick Wilson

Dialogue - Poor Joe (Reprise)

Patrick Wilson & Laura Benanti

Istropolis Philharmonic Orchestra

What a Lovely Day For a Wedding!

Chorus, Norbert Leo Butz & Danny Burstein

Marni Nixon, Audra McDonald, Laura Benanti, Patrick Wilson, Schuyler Chapin, Galen Guengerich, Ashley Brown, Norbert Leo Butz & Danny Burstein

Istropolis Philharmonic Orchestra

Istropolis Philharmonic Orchestra

Laura Benanti, Ashley Brown, Cathy Morath, Maureen Brennan & Judy Blazer

Dance (Money Isn't Everything)

Istropolis Philharmonic Orchestra

Dialogue - Poor Joe (Second Reprise)

Laura Benanti & Patrick Wilson

Poor Joe (Second Reprise)

Chorus

You Are Never Away (Reprise)

Laura Benanti & Patrick Wilson

A Fellow Needs a Girl (Reprise)

Patrick Wilson, Nathan Gunn & Audra McDonald

Chorus, Norbert Leo Butz, Georgia Osborne & Patrick Wilson

Patrick Wilson & Norbert Leo Butz

Norbert Leo Butz, Patrick Wilson & Liz Callaway

Istropolis Philharmonic Orchestra

Audra McDonald & Nathan Gunn

Harvey Evans, Patrick Wilson, Marni Nixon, Norbert Leo Butz, Liz Callaway, Stephen Sondheim & Chorus
44 Songs, 1 Hour 35 Minutes
Released:

Feb 3, 2009

℗ 2009 Hammerstein Properties LLC and Richard Rodgers Family Trust
Ratings and Reviews
Undiscovered melodies
Chances are, most of the songs on this album will be unfamiliar to you; but while, this is a complexly structured score--with bits and pieces floating in and out of the narrative--there are some spectacular melodies here as well: "Joseph Taylor, Jr.," "A Fellow Needs a Girl," "So Far," "The Gentleman Is a Dope," the title song, and "Come Home." This was Rodgers and Hammerstein's first "flop" (it actually got some rave reviews, and played out its season--but it was so expensive to produce it lost money) and ultimately their most experimental show. No, it's probably not as good as Oklahoma!, Carousel, South Pacific and The King and I--but it's daring (AND entertaining) and has the advantage of being unfamiliar, so it sounds fresh. This new recording (with its luxorious casting) makes an excellent case for "Allegro"--much more so than the truncated, poorly recorded, Original Cast Album (though, that has its merits too).
Magnificent rendition of neglected score
Gorgeous music and singing on this new recording of a very neglected score. Singing and conducting are impressive here, and there are wonders to be discovered. My only shock was hearing Marni Nixon as Grandma....she certainly sounds perfect for the part, but very different from her heydey, naturally.
If you love musicals, buy this.
I won't go into the show's history, you can go to wikipedia for that. The fact of the matter is, very few musicals are recorded in such high quality. A pet peeve of mine is a continuing trend in music based on the belief that the lay person doesn't know an orchestra from his elbow, giving way to so-so orchestral performances from so-so orchestras recorded with mediocre production values. For this recording of Allegro, the Istropolis orchestra was chosen for budget reasons, but once you hear this recording, you'll realize the choice was not to cut corners on quality but to have more time to rehearse and get a lush, sweeping recording for this show. The voice talents are a wish-list of current broadway stars, and the show is shockingly timeless. I know it's cliche to say, but if you love musicals, buy this. You'll crave great musicals again. And maybe, just maybe, someone will make one.

On a side note, another reviewer stated in his review that this show is marred by it's kitschy moral "Small town = Good, big town = bad." While agree that's the show that was made whether the creators liked it or not, it's also good to know that they were trying to make something better than that. This recording's producer was on NPR's Fresh Air, in it he discussed the intended moral, it was something along the lines of doing what was right by you, regardless of social pressures. In the case of this show, Joseph Taylor Jr. was a bright and capable man, and he struggles with the pressure that if one is educated, young and capable, one MUST garner wealth and status, and failing to do so would mark you as a failure. Yeah, that's not exactly how it panned out, but it's nice to know the show wasn't TRYING to be a crummy retro version of Doc Hollywood.