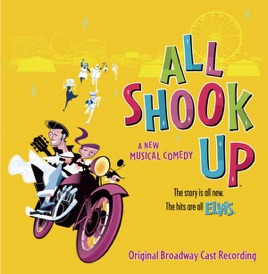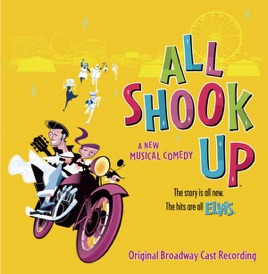 TITLE
TIME

Jenn Gambatese & Mark Price

John Eric Parker, Mark Price, Sharon Wilkins, Nikki M. James, Jonathan Hadary & All Shook Up Ensemble

Cheyenne Jackson & All Shook Up Ensemble

Cheyenne Jackson & Jenn Gambatese

Cheyenne Jackson, Leah Hocking, Mark Price & Jenn Gambatese

Cheyenne Jackson, Mark Price, Curtis Holbrook, Nikki M. James, All Shook Up Ensemble & Sharon Wilkins

(You're the) Devil in Disguise

Alix Korey & All Shook Up Ensemble

Curtis Holbrook, Nikki M. James & All Shook Up Ensemble

Jenn Gambatese, Cheyenne Jackson, Justin Bohan & Justin Patterson

Cheyenne Jackson & Jonathan Hadary

All Shook Up Ensemble & Leah Hocking

Can't Help Falling in Love

Sharon Wilkins, Mark Price, Cheyenne Jackson, Jonathan Hadary, Jenn Gambatese, Nikki M. James, All Shook Up Ensemble & Curtis Holbrook

Cheyenne Jackson, Jenn Gambatese, Jonathan Hadary, Mark Price, Curtis Holbrook, Sharon Wilkins, Leah Hocking, All Shook Up Ensemble & Nikki M. James

All Shook Up Ensemble & Mark Price

A Little Less Conversation

Jenn Gambatese, Cheyenne Jackson & All Shook Up Ensemble

Cheyenne Jackson, Jonathan Hadary & Leah Hocking

Cheyenne Jackson, Michael X. Martin, All Shook Up Ensemble & Paul Castree

Cheyenne Jackson, Nikki M. James, All Shook Up Ensemble & Curtis Holbrook

All Shook Up Ensemble & Jenn Gambatese

Cheyenne Jackson, Leah Hocking, Mark Price, John Jellison, Alix Korey, Sharon Wilkins, Jonathan Hadary, Curtis Holbrook, Nikki M. James, All Shook Up Ensemble & Jenn Gambatese

All Shook Up Ensemble & Cheyenne Jackson
27 Songs, 57 Minutes
Released:

May 31, 2005

℗ 2005 SONY BMG MUSIC ENTERTAINMENT
Ratings and Reviews
I'm all shook up!
I saw a high school play of all shook up, and i loved it. I had to come home and buy the soundtrack. I absolutely love it!
Whoever said elvis sang it better can shut up
This is supposed to be different than elvis's version.... His music is going to be changed because it is musical theatre... So you shouldn't buy this if you don't like musical theatre.... But if you do, I insist on you buying this! It is AMAZING!
I love All Shook Up!!!!
I saw this show at the Media Theatre in Philadelphia, and now that I have heard the soundtrack as well, All Shook Up is definetly on of my favorite musicals. At first I thought Elvis Presley would be cheesey, but the storyline is intriguing and the
characters are hilarious and memorable. All I can say is... "I'm All Shook Up!"