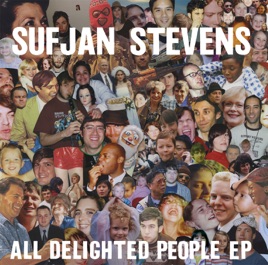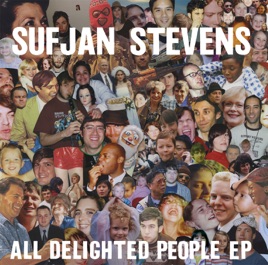 | | TITLE | | TIME |
| --- | --- | --- | --- |
| | | | |
| | | | |
| | | | |
| | From the Mouth of Gabriel | | |
| | | | |
| | All Delighted People (Classic Rock Version) | | |
| | | | |
| | | | |
8 Songs, 59 Minutes
Released:

Aug 23, 2010

℗ 2010 Sufjan Stevens
Ratings and Reviews
One Delighted Fan
Welcome back Sufjan!

All of Sufjan's fans probably had the notion that Sufjan was interested in pursuing new musical directions with the release of "You are the Blood" and a statement in a recent interview that he "no longer believes in the album, no longer believes in the song".

The songs on this EP certainly don't fit the verse/chorus/verse structure that Sufjan mastered during his "Illinoise/Avalanche" period. The delightful, handclap-inducing 3 minute bursts of joy he so effortlessly created during that period has given way to a more sprawling approach to songwriting.

The good news... Sufjan's prodigious melodic gifts are intact. He is also using the same musical palette we are all familiar with (the horns, banjos, backup vocals, etc.). However, the songs on this EP reward concentrated, repeated listens to appreciate their more challenging architecture. These are art-songs, and don't necessarily offer giddy instant gratification. I would not recommend this EP as an entry point to Sufjan's music to a new listener; but I think any fan of Sufjan will love this. I know I do.

Music-geek side note: Has he been listening to Charles Ives? I swear I hear a reference to the Prelude in Ives' 4th symphony around 6:30 in the first version of "All Delighted People"...
Yay Sufjan!
I was wondering where he was going to go next and I feel that he came back with an absolute bang. Very few in music today can execute that way he has. Everything from epic symphonic carols, glitchy breakdowns, stripped down folk bridges, all narrated by interesting and thoughtful lyrics. I'm proud to be from the same state as this guy.

If he doesn't begin to get more widespread recognition after this I will be disappointed at the world.

Go Sufjan! Buy his album!
Amazing Job, Mr. Stevens
The title track is incredible. The way the beginning of the song builds is chill-inducing. From the Mouth of Gabriel is also a gem. My only criticism of this EP is that it doesn't need to be so long! The 10 minute stretches of repetitive nonsense in Djohariah are too much for me. Other than that, great!