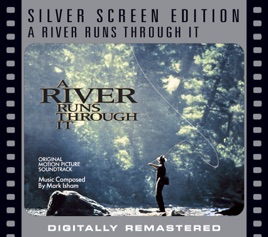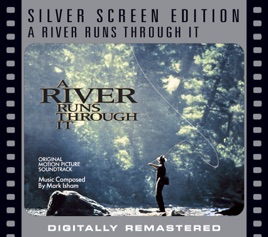 A River Runs Through It Silverscreen Edition
Mark Isham
| | TITLE | | TIME |
| --- | --- | --- | --- |
| | | | |
| | Casting Presbyterian Style | | |
| | A Land Filled With Wonder | | |
| | Down the Alley (With You) | | |
| | A Summer of Lumber and Fishing | | |
| | | | |
| | | | |
| | | | |
| | | | |
| | | | |
| | | | |
| | | | |
| | Swing Me High; Swing Me Low | | |
| | | | |
| | | | |
| | | | |
| | | | |
| | | | |
| | | | |
| | | | |
| | The Splendor In the Grass | | |
| | | | |
| | | | |
| | | | |
| | | | |
| | A Fine Fisherman and the Big Black-Foot River | | |
| | The Moment That Could Not Last | | |
| | | | |
| | Without Complete Understanding | | |
| | In Half-Light of the Canyon | | |
| | Haunted By Waters - a River Runs Through It (Reprise) | | |
| | | | |
32 Songs, 1 Hour 6 Minutes
Released:

Oct 27, 1992

℗ 1992 Allied Filmmakers N.V
Ratings and Reviews
Awesome in simplicity
For years I have loved this movie because of the simple truths it tells and explores. As I pass into the older generation of boomers and watch my elders fade from this earth, I search for truths myself and I could sit for hours and listen to the haunting sounds of the flute and violins that tell of a simpler time and place. I envy those who lived in those times. This music is both soothing and makes me all the more contemplative as I approach those years when I too will fade from this earth. Thank you Isham for the music....Redford for the movie..thank you...thank you...
A River Runs Through It
I've read the book by Norman McLean (highly recommended), seen the movie (also highly recommended), and, for a 3 1/2 year period in the early 70s, was stationed by the United States Air Force at Malmstrom Air Force Base in Great Falls, Montana. Mark Isham has done a lot of movie music (notably Mrs Soffel, The Life and Times of Harvey Milk, and Never Cry Wolf), but this must be considered his magnum opus. The movie, a prime example of cinematography, would be fatally diminished without Mark Isham's score. The rendering of the scenes in Mark's distinctive style allow the movie to proceed in a way that makes it unforgettable rather than being just another ordinary film. This film (and soundtrack) draws me back to the days of my youth in Montana, and reminds me of how this place has put its mark onto me for the remainder of my life. If you haven't seen this movie, then please see it. If you have seen it, then by all means view it again. You won't regret it.
A Four-Count Rhythm
This score is very good throughout but I especially enjoyed "A Four-Count Rhythm. I love the more minimalistic style cues with piano and strings, especially the melancholy stuff, similar to what you'd hear on Josh Kramer's "Beginnings" or any of Thomas Newman's scores. They're just so powerful.