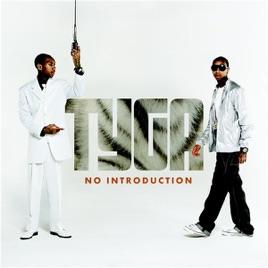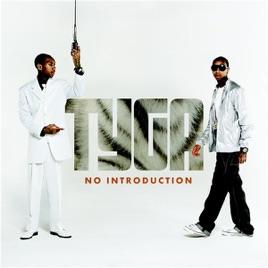 | | TITLE | | TIME |
| --- | --- | --- | --- |
| | Diamond Life (feat. Patty Crash) | | |
| | Coconut Juice (feat. Travis McCoy) | | |
| | | | |
| | Don't Regret It Now (feat. Patrick Stump) | | |
| | | | |
| | | | |
| | | | |
| | | | |
| | | | |
| | | | |
| | | | |
| | | | |
| | | | |
| | I Am (feat. Lil Wayne) [Bonus Track] | | |
| 15 | Coconut Juice (feat. Travis McCoy) | | |
15 Songs, 52 Minutes
Released:

Jun 10, 2008

℗ 2008 Decaydance Records
Ratings and Reviews
INSANE
When i first heard Tyga i was like woah this dude is crazzy. The beats on this album are in so different. The best song i think is I am, but by far the summer jam is gunna be Coconut Juice.
Tyga-No Introduction
New rapper Tyga has some connections, being the cousin of Gym Class Heroes lead vocalist, Travis McCoy and signed to Lil' Wayne's Young Money Ent. He proves to show his talent with No Introduction.

Diamond Life: Jamming guitars and rock influenced production, is slightly overpowering to Tyga's voice. Vocally he gets lost in the production and you really have to listen for the lyrics, but the energy is there as the album gets off to a nice start. Patty Crash brings a unique hook as the track builds well. 3.5/5
Coconut Juice: Featuring cousin Travis McCoy, the lead single is a fun feel good club party cut. With a mainly clap production and building synths, drums and other instruments at the quite catchy hook. It has a great party vibe and really heats up dance floors, as cousin McCoy spits at the breakdown with "so what he's my cousin, sexy runs in the fam". 4/5
Supersize Me: Uptempo and fast flowing, as the hectic synths sound like robotic movements gone crazy. A club cut that is more fun and youthful, but only decent. 3/5
Don't Regret It Now: Patrick Stump produced and featured, could be a passable attempt at radio success. The lyrics however are quite deep, something you wouldn't expect on such a synth happy uptempo track that has a mtv ready hook and production from Stump. "cause bein an only child can have you feelin desperate, in need of attention, every second, listen to the man of the house you never get it, he left without a smile but you never miss him, but when you reminiscin, you wish you had a father", spits young Tyga on this feel good yet deep track. 4/5
Pillow Talkin: Piano driven production sets the tone for the track, as Tyga plays a vulnerable teen who figures that he and his lady should be "pillow talking" rather than arguing. He dives into the metaphors of a broken relationship, as the teen girl fanbase of Tyga will love this. It's a solid song about a relationship that works off of its pop appeal. 3.5/5
AIM: Teen topic that relates to many younger aged listeners, the track is about AOL Instant Messager, which is in short AIM. A banging production that is heavy on the drums and bass, as Tyga repeats "she don't know my name, she just know me by my aim". Decent banger, that features the line, "always on point like Ginobili". 3/5
First Timers: With its piano laced production and light hearted feel, Tyga speaks to the ladies once again. Another pop appealing track, similar to "Pillow Talkin", except not as heartfelt, it has a super pop hook. Solid track that will appeal to young teen girls. 3/5
Cartoonz: Interesting and creative concept here, Tyga uses all the cartoons in the book to create a super hero like story. While the production is mediocre and repetitive, it's a decent track that creatively uses other cartoons to describe his life. Clever, but the production takes away from this. 3/5
Summertime: Stealing Will Smith's hit, "Summertime" for the hook and topic, Tyga spits over dazed keys and smooth chilled feel. It's an enjoyable track, but it bites too much off of Will Smith to be taken seriously. Decent track. 3/5
Press 7: Once again piano keys and guitar rock hook, the hook is just mediocre, intended to aim at the younger audiences. Although it's actually a breakup track, it has a happy demeanor to it, as Tyga lightly delivers the message to her, through hook and lyrics. 3/5
Woww: Club ready "Woww" features some semi-hyphy beats that pumps with bass and has some fat synths. It is meant to get you moving and it serves its purpose, however lyrically it is just mediocre. 3/5
2 A.M.: The most reflective track that shows Tyga pondering thoughts that happened recently. One of those moments, where it is quiet and late (2 A.M. in this case), Tyga just wonders about life and what he's been through. As surging synths glide nicely with Tyga's mature lyrics, it works well. 4/5
EST. (80's Baby): Blasts of synth and hyped production with keys, the production on here is well crafted. Pretty much a freestyle, Tyga just goes off with this ender to proclaim that he was almost "est. in the nineties, but I'm still an 80's baby". Solid finisher. 3.5/5
I Am: Weezy joins Tyga on this mellow bumping cut, decent bonus. 3/5

Tattoo filled youngster Tyga delivers a decent performance with his debut. It's evident that his audience works really well for the MTV crowds. In terms of production, topics and vibe, it's a young audience type of album that has the Fall Out Boy crew producing the album. With club banger "Coconut Juice", its what you expect from a young artist, a track that is catchy and high energy. "Woww" isn't nearly as addicting, but a solid track that will get people dancing, as "Coconut Juice" is a summer themed party track that features a feel good hook. Despite the club bump, he shows he has lyrics, as "Don't Regret It Now" features deep lyrics that could possibly be taken as merely a pop/radio attempt, if it weren't for the lyrics, while "2 A.M." has Tyga wondering about life. "Supersize Me" is raucous, "Cartoonz" is clever, "Summertime" and "AIM" just mediocre. He goes into relationship cuts for the ladies, with the heartbroken "Pillow Talkin", light hearted yet breakup cut "Press 7" and "First Timers" is a love track. Leadoff track "Diamond Life" has some overpowering production and he gets lost in it, but his voice will grow stronger with maturity. Concepts aren't bad, his flow works and overall the album is solid for a weekend and summer bang. More for the younger audience, Tyga appeals to MTV mainly, and does a solid job with his debut. The freestyle finishing "EST. (80's Baby)" ends things on a grand note. MTV crowd check it out, its at a fair price of 7.99.

Rating 7 out of 10

Tyga
Tyga does a great job on his debut. Not many filler tracks on this album which i am happy for. My favorite tracks are I am and Coconut Juice. I look forward to seeing much more of him in the future.