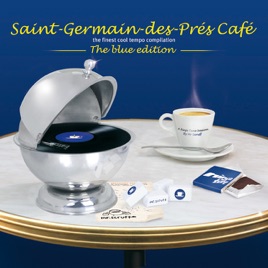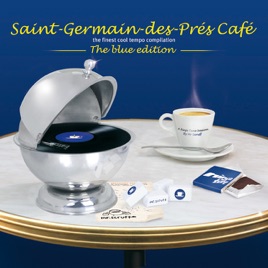 Saint-Germain-des-Prés Café (The Blue Edition by Mr. Scruff)
Various Artists
TITLE
TIME

Voices (feat. Hindi Zahra)

Blundetto

This Room (feat. Fat Freddy's Drop)

Joe Dukie & DJ Fitchie

Hello, I Love You (feat. Elias)

Dafuniks

Everybody Loves the Sunshine

Seu Jorge & Almaz

Green Eyed Love (Classixx Remix)

Mayer Hawthorne

One Woman Army (feat. Laura Vane)

Hint

Why Can't There Be Love (Pilooski Edit)

Dee Edwards

So Good Today (Yoruba Soul Remix)

Ben Westbeech

Fair-Weather Friend (Ninja Tune's Mix by Mr Scruff)

Homelife

Consciousness (Ninja Tune's Mix by Mr Scruff)

DJ Food

Bass Baby (Ninja Tune's Mix by Mr Scruff)

Mr. Scruff

Chicken Spit (Ninja Tune's Mix by Mr Scruff)

Pest

Never Can Get Enough (Ninja Tune's Mix by Mr Scruff)

London Funk Allstars

Moon Sequence (Radio Silence) [Ninja Tune's Mix by Mr Scruff]

The Herbaliser

Singalong (Ninja Tune's Mix by Mr Scruff)

Treva Whateva

Survival of the Freshest (Ninja Tune's Mix by Mr Scruff)

The Poets of Rhythm

Get Your Head Down (Ninja Tune's Mix by Mr Scruff)

Luke Vibert

Music for Body Lockers (Reworked from Shatners Bassoon) [Ninja Tune's Mix by Mr Scruff]

Chocolate Weasel

Up to Jah (feat. Demolition) [Ninja Tune's Mix by Mr Scruff]

DJ Vadim

Flutter (Ninja Tune's Mix by Mr Scruff)

Bonobo

Beautiful Nasty (4 Hero Remix) [Ninja Tune's Mix by Mr Scruff]

Chris Bowden

Scratch Yer Head (Squarepusher Remix) [Ninja Tune's Mix by Mr Scruff]

DJ Food

Chomp Samba (Ninja Tune's Mix by Mr Scruff)

Amon Tobin

Channel 1 Suite (Ninja Tune's Mix by Mr Scruff)

The Cinematic Orchestra

We Don't Care (Ninja Tune's Mix by Mr Scruff)

Ty

Juggle Tings Proper (Ninja Tune's Mix by Mr Scruff)

Roots Manuva

Nocturne (Ninja Tune's Mix by Mr Scruff)

DJ Food
38 Songs, 2 Hours 36 Minutes
Released:

11 Oct 2010

℗ 2010 Wagram Music
Ratings and Reviews
Saint Germain - Alway Good!
Well...this compilation reminds me of hot summer nights beeing on vacation somewhere in Italy or France. My favourite song is All the People and it absolutely fits to my chillout music playlists which consists of tracks from the album Dolomiti Super Chill and other releases from this series.

Anyway...St. Germain is great as always!!! You should get this!!!