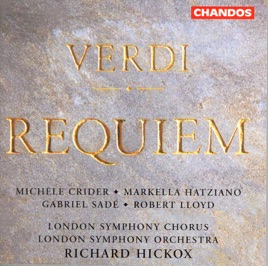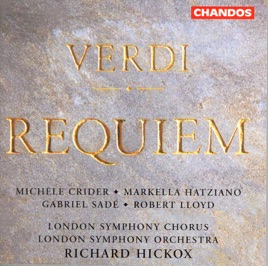 | | TITLE | | TIME |
| --- | --- | --- | --- |
| | Mess Da Requiem: Requiem aeternam | | |
| | Messa Da Requiem: Dies Irae: Dies Irae, Dies Illa — | | |
| | Messa Da Requiem: Dies Irae: Tuba Mirum — | | |
| | Messa Da Requiem: Dies Irae: Mors Stupebit — | | |
| | Messa Da Requiem: Dies Irae: Liber Scriptus — | | |
| | Messa Da Requiem: Dies Irae: Quid Sum Miser — | | |
| | Messa Da Requiem: Dies Irae: Rex Tremendae — | | |
| | Messa Da Requiem: Dies Irae: Recordare — | | |
| | Messa Da Requiem: Dies Irae: Ingemisco — | | |
| | Messa Da Requiem: Dies Irae: Confutatis — | | |
| | Messa Da Requiem: Dies Irae: Lacrymosa — | | |
| | Messa Da Requiem: Offertorio | | |
| | Messa Da Requiem: Sanctus | | |
| | Messa Da Requiem: Agnus Dei | | |
| | Messa Da Requiem: Lux Aeterna | | |
| | Messa Da Requiem: Libera Me | | |
16 Songs, 1 Hour 19 Minutes
Released:

1 Jun 1996

℗ 1996 Chandos
Ratings and Reviews
Magnificent
Sublime Music that enraptures the soul, I have not heard anythin that is as good as this album. I find that it has so many emotions within that the first listen is too overwhelming. A must for anyone who truly loves music I would recomend this a 1000 times over.
Inspirational, frightening, reassuring....
Well lets get this straight, I am an atheist, and a fairly vocal one at that. I dislike organised religion, full stop. However.... this is a sublime recording (the best quality on iTunes) of Verdi's emotional musical outpouring of grief and loss; this is the funeral mass after all. He brings all of his operatic experience to bear on what I think is a very personal piece, inspied by the death of one of his heroes, Manzoni. The quality of the singing is quite amazing ('recordare'), I have never been taken by such an emotional and perceptive piece of music. I will not get religion, but Verdi has given me a glimpse into a world alien to me. Buy it, I bet you will still be listening to it for the rest of your days. Awesome.