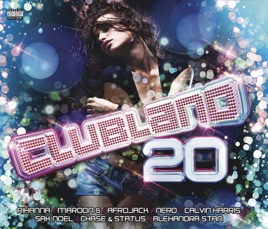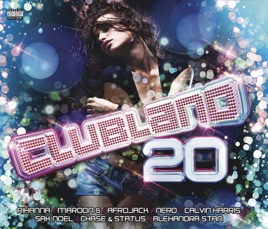 Clubland 20
Various Artists
TITLE
TIME

We Found Love (Cahill Edit) [feat. Calvin Harris]

Rihanna

Get Back (ASAP) [Frisco Remix]

Alexandra Stan

Moves Like Jagger (Soulseekerz Radio Edit) [feat. Christine Aguilera]

Maroon 5

What Do You Take Me For (Bimbo Jones Remix Edit) [feat. Pusha T]

Pixie Lott

Un Momento (UK Radio Edit) [feat. Juan Magan]

Inna

Sexy & I Know It (Bbop & Rocksteadi Radio Edit)

Def Motion

Video Games (We Don't Belong In Pacha Remix)

Lana Del Rey

When I Was a Youngster (Sonic Eclipse Remix)

Rizzle Kicks

You and I (Danny Verde Remix)

Lady Gaga

Papi (Rosabel Vocal Club Mix)

Jennifer Lopez

Hearts In the Air (feat. J-Son)

Eric Saade

Without You (Krommerz Remix Edit)

Other Ego

Dance 2011 (Rudedog Remix Edit)

Apollo

Dominoes (Jorg Schmid Remix)

Wildboyz

Come With Me 2011 (Rudedog Remix Edit)

Major Players

Get Outta That Corner (Super Massive Remix)

Lucky Charmes, Perry Mystique & Natalie May

Got Me Burnin' (Steve Smart & WestFunk Remix)

RD

No Beef (UK Radio Edit) [feat. Miss Palmer]

Afrojack & Steve Aoki

Still Speedin' (Liam Keegan Radio Edit) [feat. Kano]

Sway

Crush On You (Single Version)

Nero

Danza Kuduro (Radio Edit)

Verde

I Need (Moto Blanco Remix)

Maverick Sabre

Shake It Out (Benny Benassi Remix Edit)

Florence + the Machine

Big Bad Wolf (UK Radio Edit)

Duck Sauce

Close to Me (feat. Gary Go)

Benny Benassi

Hold On (Jacob Plant Remix Edit)

Skepta

Me & My Microphone (Extended Mix)

September

Don't Let the Music End (Chorus Radio Edit)

Radio Killer

All Over the World (Radio Edit)

Ola

Free (The Bimbo Jones Radio Edit) [feat. will.i.am]

Natalia Kills

What the Girls Like (David May Edit)

Jay Kay

Beautiful World (Original Mix) [feat. Kat B]

Subdivas

Just a Dreamer (Original Mix)

Rudedog

Loca People (Original Mix)

Sak Noel

Mr Saxobeat (Extended Mix)

Alexandra Stan

Martin Solveig & Dragonette

Cinema (Extended Mix) [feat. Gary Go]

Benny Benassi

Party Rock Anthem (Radio Edit)

Club Madness

Price Tag (Lockout Remix)

Jessie J

No Regrets (Lockout Remix)

Dappy

Spaceship (7th Heaven Radio Edit)

Tinchy Stryder & Dappy

On the Floor (Radio Edit)

Jennifer Lopez

Don't Stop the Party (Radio Edit)

The Black Eyed Peas

Welcome to St Tropez (DJ Anoine vs. Mad Mad Mark Mix) [feat. Kalena]

DJ Antoine & Timata

Born This Way (Bimbo Jones Club)

Lady Gaga

Vamos a la Playa (Movetown Remix)

Loona

Jar of Hearts (Extended Mix) [feat. Francesca]

Mercury Red

Blind Faith (Radio Edit) [feat. Liam Bailey]

Chase & Status

Clubland 20 (Continuous Mix 1)

Clubland 20 (Continuous Mix 2)

Clubland 20 (Continuous Mix 3)
60 Songs, 7 Hours 29 Minutes
Released:

6 Nov 2011

℗ 2011 Universal Music TV, A Division of Universal Music Operations Limited/All Around The World Limited
Ratings and Reviews
Clubland
You can't beat old school clubland like 1 through to 7/8 they were the best and still get me in the mood to party
best clubland yet
love songs and remix specially get back asap alexandra stan luv that song
when is the original gonna be released as it said it would be released ages ago!
What it always was...
Clubland 20 is just like any other Clubland - it's a reflection of what is happening in the commercial dance music scene today!

If it had a load of tracks on that were by supposed traditional Clubland artists, but weren't great tracks or tracks that were playing in the pubs and clubs, everyone would be moaning that Clubland was "out of touch"

The reality is that this Clubland, like the others, is a great reflection of where dance music is now, so it seems a little unfair for it to be attacked on the basis it hasn't got certain artists on

Loads of hits, loads of mixes, 57 of the biggest tracks of the year for £9.99 - 18p a track doesn't seem too bad to me!