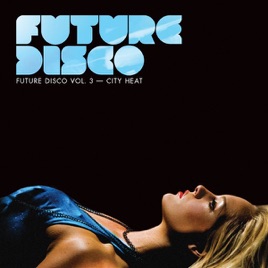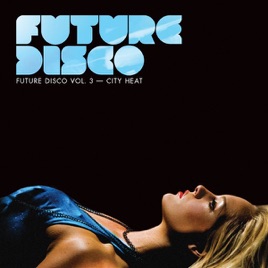 Future Disco, Vol. 3 - City Heat
Various Artists
TITLE
TIME

The Deep End (Holy Ghost! Day School Dub)

Curses!

Just Be Good to Me (Ron Basejam Remix) [feat. Danielle Moore]

The Revenge

Call Me Tonight (Greg Wilson Version)

Ilija Rudman

Never Gonna Reach Me (Hot Toddy Remix)

Crazy P

The Fear (Beg to Differ Remix) [feat. Kathy Diamond]

Nick Chacona

Feverish (The Revenge Remix)

Chamboché

Throw Up (Brontosaurus Remix)

Moscow

Future Disco, Vol. 3 - City Heat (Continuous Mix)
17 Songs, 3 Hours 6 Minutes
Released:

24 May 2010

℗ 2010 Needwant
Ratings and Reviews
Refreshingly different
I've been looking for an upbeat summer compilation album that isn't tainted with the usual re-hashed and overplayed mediocrity that seems to be surfacing on some of the more prominent labels this year. After a good few years of absence of Es Vive's 2002-2007 compilations where usually one of the discs would offer something along the same lines, there's definitely been a gap in my growing collection for something like Future Disco's collections. Interestingly different, and definitely one to get your foot tapping with it's infectious bass lines.

Stand out track for me is no.6 Crazy P's Never Gonna Reach Me (Hot Toddy Remix), as this version has taken the original track to another level.

If you like this, maybe also try Es vive's albums (not on iTunes), Hotel Costes vol 1-10, anything on the Large record label (esp. Groove Metropolis), OM15, or Defected's For the Love of House vol.2.
City Heat Vol. 3
This new album from the future disco saga has yet again pushed the boundaries to funky beats and addictive base lines. The mix of old and new styles and sounds prove justifying to any music head. City Heat defiantly ignores the trend to be just the same and so makes anyone want to get up and dance. This is my album of the summer, a pure genius production of rough and smooth classics to see me through the hot nights.
More good stuff
I have only given it four stars because the mix track did not download. Otherwise, it's up there with volumes one and two. If you lke these, you might want to try the two Hed Kandi Nu Disco compilations on a similar tack.