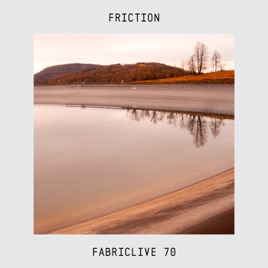 TITLE
TIME

Understand (VIP) [feat. Sam Wills]

Optiv & BTK

Liberation (FABRICLIVE 70 Edit)

Enei & Emperor

Bristol (FABRICLIVE 70 Edit)

Technimatic

Playing Games (VIP) [feat. D.Ablo]

Alix Perez

You Can Dream (FABRICLIVE 70 Edit)

AI

Sphere (FABRICLIVE 70 Edit)

Technimatic

Intersection (FABRICLIVE 70 Edit)

Technimatic

Annie's Song (Original vs S.P.Y Mash-Up) [feat. Sam Wills]

Alix Perez

Annie's Song (S.P.Y Remix) [feat. Sam Wills]

Alix Perez

Keep Pushing Me (FABRICLIVE 70 Edit)

Dramatic

Cypher (FABRICLIVE 70 Edit)

Mefjus & Kasra

Dreadnaught (VIP) [feat. SP:MC]

Icicle

Jupiter (Mefjus Remix) [FABRICLIVE 70 Edit]

Friction & K Tee

Anxious (FABRICLIVE 70 Edit)

Icicle

Killa Bees (InsideInfo Remix)

Usual Suspects

Time Tripping (FABRICLIVE 70 Edit)

DJ Hazard

FABRICLIVE 70: Friction (Continuous DJ Mix)
36 Songs, 3 Hours 37 Minutes
Released:

15 Jul 2013

℗ 2013 fabric
Ratings and Reviews
Nice mix
Loving this mix, good section of tunes.
Have to agree Icicle remixes are class. Minimal funk is a good tract but not forgetting Detroit by Rockwell as this was in the top 5 dnb tunes of 2013. And killer bees (insideinfo remix) brings on a good vibe as well.
Ermmmm....
Love the songs & the mix. Seems like it is mastered too quietly though. Bit of a pain trying to play in a mix. Never brought any other tracks this quiet.
Love this mix
A well blended mix of dark and funky tunes. Can't find a song I dislike after 5 listens. Added bonus getting in mixed tracks. Would have given it 5 stars if some of the unmixed tunes had not been "edited" (cut).