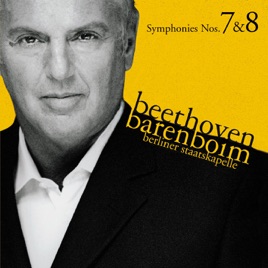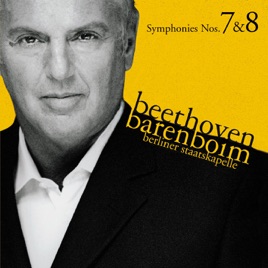 | | TITLE | | TIME |
| --- | --- | --- | --- |
| | Symphony No. 7 in A Major Op. 92 | | |
| | Beethoven : Symphony No.7 in A major Op.92 : I Poco sostenuto - Vivace | | |
| | Beethoven : Symphony No.7 in A major Op.92 : II Allegretto | | |
| | Beethoven : Symphony No.7 in A major Op.92 : III Presto | | |
| | Beethoven : Symphony No.7 in A major Op.92 : IV Allegro con brio | | |
| | Symphony No. 8 in F Major, Op. 93 | | |
| | Beethoven : Symphony No.8 in F major Op.93 : I Allegro vivace e con brio | | |
| | Beethoven : Symphony No.8 in F major Op.93 : II Allegretto scherzando | | |
| | Beethoven : Symphony No.8 in F major Op.93 : III Tempo di Minuetto | | |
| | Beethoven : Symphony No.8 in F major Op.93 : IV Allegro vivace | | |
8 Songs, 1 Hour 7 Minutes
Released:

31 Dec 1999

℗ 2000 Teldec Classics International GMBH
Ratings and Reviews
Bargain Find
I was hunting for the Allegretto from Symphony No. 7 but when I saw there was the Barenboim version and I could have the whole symphony plus No.8 for just £2.99, I thought it would be rude not buy the whole album.
No.7 is dramatic and connects a sense of heavy foreboding and doom with a lighter structure of exhilaration which is curiously energising. No.8 I was not acquainted with but is elaborate and detailed and much lighter on one's heart.
But both best pest played as loud and booming as you can!