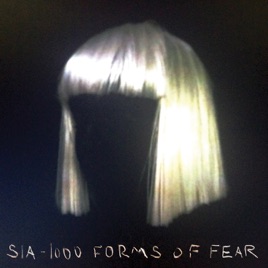 12 Songs, 48 Minutes
Released:

4 Jul 2014

℗ 2015 Monkey Puzzle Records under license to Inertia Recordings
Ratings and Reviews
Sia has it
Sia is the only music artist for years that can spark that place within me that is beyond the world of words, colours and voices. It doesn't make sense really- her voice goes beyond what a voice is and unlocks something that makes everything different to before. She is an artist because that's what an artist is supposed to do. In the world of pop music (which is just there for entertainment) Sia's music transforms BUT ALSO entertains at the same time. That is a very rare and precious thing. The fact she can sell records to millions when that is not truly what she's trying to do is quite incredible. To put the word incredible on her work limits what's she's doing. There are so many people out there who are so grateful for what she's doing. My life is richer for her work and the place she is able to take me. Thanks Sia.
Outstanding
This Album has left me Speechless. Each and every song made me think deeply about the song and It's lyrics, the tune of the song flows perfectly with the songs and I thought it was very powerful and convincing. Sia has earned her talent and fame like any other pop star: they worked their way up until the time was right to put her songs in the spotlight. Thumbs up for Sia! 😀😄😃👍🏻🙂
themanwhojamsalternative
,
Best of 2014
What a beautiful masterpiece. Every song has come from her past experiences and struggles. Sure she didn't grow up in the ghetto, but she had it hard. And she used that hardship and turned it into the magnificence I am listening to now. And not only does she have one of the most iconic voices of this generation, but she has used this fame to share her point of view on the world and her emotions and what goes on in her mind. Extremely disturbing, depressing and crazy in the best way possible. Love you Sia.