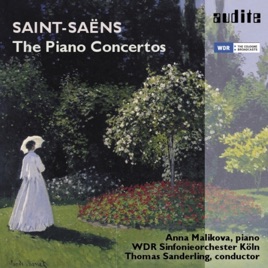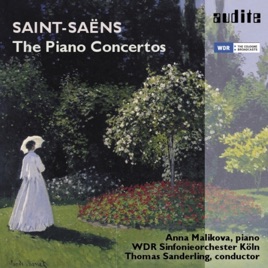 Camille Saint-Saëns: The Complete Piano Concertos (Piano Concerto No. 1, D Major, Op. 17, No. 2, G Minor, Op. 22, No. 3, E-Flat Major, Op. 29, No. 4, C Minor, Op. 44, No. 5, F Major, Op. 103 ("Egyptian"))
WDR Sinfonieorchester Köln
TITLE
TIME

Piano Concerto No. 1, D major Op. 17

Anna Malikova, WDR Sinfonieorchester Köln & Thomas Sanderling

Andante sostenuto quasi adagio

Piano Concerto No. 2, G minor Op. 22

Anna Malikova, WDR Sinfonieorchester Köln & Thomas Sanderling

Piano Concerto No. 4, C minor Op. 44

Anna Malikova, WDR Sinfonieorchester Köln & Thomas Sanderling

Allegro moderato – Andante

Allegro vivace – Andante – Allegro

Piano Concerto No. 3, E-flat major Op. 29

Anna Malikova, WDR Sinfonieorchester Köln & Thomas Sanderling

Moderato assai – Più mosso (Allegro maestoso)

Piano Concerto No. 5, F major Op. 103

Anna Malikova, WDR Sinfonieorchester Köln & Thomas Sanderling

Andante – Allegretto tranquillo quasi andantino
14 Songs, 2 Hours 20 Minutes
Released:

Oct 1, 2010

℗ 2010 Ludger Boeckenhoff Audite Musikproduktion
Ratings and Reviews
Classical Pianist Smith
,
Excellent buy!
The sound quality for this is great, and the music's brilliance is only surpassed by that of the pianist. Her touch is soft and very expressive where appropriate (i.e. opening piano score for the Egyptian), and her tone is always crisp. The runs are done excellently and you can definitely tell, she has very quick and nimble fingers. This album rocketed Saint-Saens past Liszt on my list (pun intended); the originality, especially in Nos. 2 and 5, is incredible. Any artist suggestions for Carnival of Animals?
The only excellant works!!
It has perfect balance between piano & orchestra, each concertos are the most brilliant works!!

It is good opportunity to get all five piano concertos of Saens without any regret!
You must get it if you are classical fan.
Issues with recording
Just FYI, the recording sounds broken on everything I play it on, regardless of speaker quality or volume when the music reaches crescendos to anything over mp. I'm asking for my money back. Only gave two stars as it's clear the musicianship is top notch when you overlook the static.